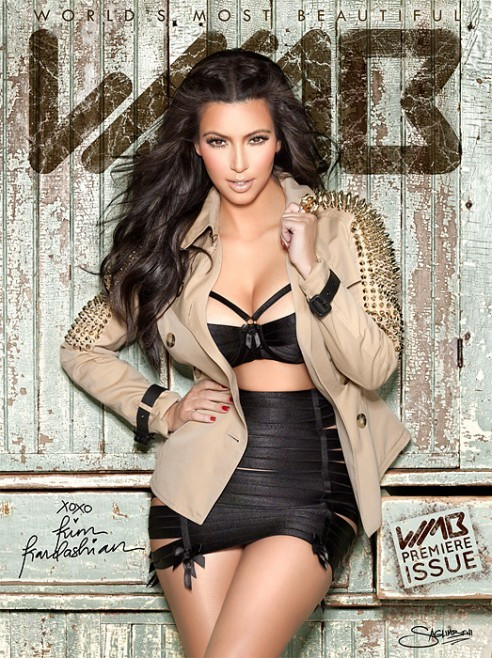 Kim Kardashian took the opportunity to feature to full effect for new World's Most Beautiful magazine photo shoot.
The new publication, which hits U.S. news stands on Thursday, will be 'the world's first 3-D magazine,' according to Kim.
"So you need 3-D glasses to see the photos! How cool is that!?' she wrote. 'I'm The World's First 3D Magazine Cover Girl!" quoted The Daily Mail.
The 30-year-old reality star posted pictures from the soon to be realised shoot on her website. The photographs show Kim in a variety of revealing outfits, with the cover shot featuring the star in a miniskirt made up of black ribbons, a black bra and a beige jacket.
According to E! Online, the shoot was kept quiet, with even Kim not aware of the full details - only that she had signed up for a 'top-secret' glam-meets-wasteland shoot in the desert.
The 3-D shoot was shot in a disused mining town in the California by photographer Nick Saglimbeni which Kim was reportedly "amazed" about said The Daily Mail. Kim told the website:
"I work with Nick all the time and he is my favourite photographer. He just makes everyone feel so comfortable and confident. He just wants to have fun and make beautiful photos.'
And judging several behind-the-scenes shots on her site including her getting her makeup done, and examining the finished shots the model seemed to enjoy her shoot.
"Nick Saglimbeni came up with the idea and we had the most amazing shoot out in the desert with all kinds of stunning outfits. I love the black lace body suit! I'm going to make that image my Twitter background!!" quoted the Daily Mail.
See Kim's behind the scenes 3-d shoot here: Pictures
Must Read: Kim Kardashian Revealed Secrets Before Wedding (PHOTOS)