Kim Kardashian may have made headlines for her out-of-proportion, dimpled behind in the past week and lost over 100,000 Instagram followers, but she's also in the news for speaking about her famous family.
The 36-year-old reality star spoke about her feelings towards her step-parent, Caitlyn Jenner, and her controversial memoir named The Secrets of My Life.
The book has made negative claims against Jenner's ex-wife Kris Jenner and goes into her transition in great detail, including a confession about undergoing gender realignment surgery.
It also accuses the momager of "alienating" her from her children ever since she came out as trans in a televised interview two years ago.
Following reports about the tome, Kardashian came out in defence of her mother, 61, while on the Ellen DeGeneres show.
She said: "My heart breaks for my mum, you know, because I feel like she's been through so much and there's, you know... [Caitlyn is] promoting this book and she's saying all these things and you know, I just don't think it's necessary, and I just feel like it's unfair, things aren't truthful."
DeGeneres prodded Kardashian to elaborate furthermore on what she meant, and if the low points in the 22-year marriage was exaggerated in Jenner's latest book.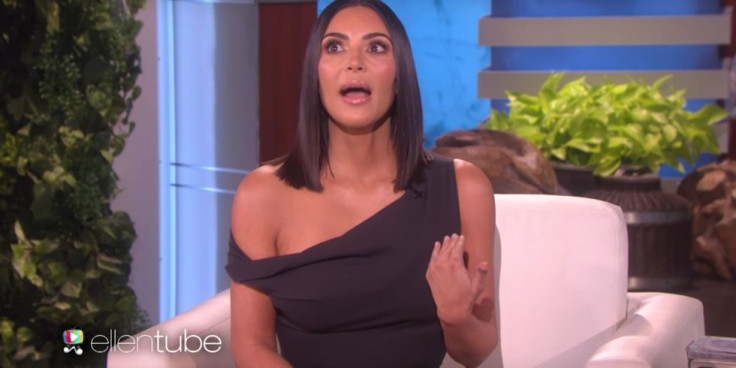 Mother-of-two Kardashian explained: "[She's] not [honest] with certain things about my mum or other things.
"I mean, I feel like it's taken her a really long time to be honest with herself, so I don't expect her to be honest about [Kris] now, but it's just so hurtful. Like I just, I wish her all the success in the world, but not at our expense."
The reality star didn't refrain from speaking of how Jenner has upset the famous family, which includes her half-sisters Kendall and Kylie. She also said that she had temporarily cut off contact with Jenner.
She continued: "I haven't talked to her in a couple of weeks and I'll always, I mean, I'll always love her. That was my step-dad for so many years.
"She taught me about character and so much growing up and I just feel like I don't respect the character that she's showing now. But like I said, we, I'll still always have a major love for her, for who she was in my life. I'm really sentimental; I think my mum's that way.
"It's still Kendall and Kylie's dad, so I want to be respectful, but I just feel like there's no need for a book. You know, tell your story but just don't bash other people. I just think it's, like, not tasteful."
Kardashian spoke about other parts of her life in the candid chat, including the Paris robbery which took place last year. She claimed that her traumatic experience during Paris Fashion Week changed her as a person, telling DeGeneres: "I'm such a different person. I don't want to start crying anymore. It was meant to happen to me. I really feel like things happen in your life to teach you things. It was probably no secret – and you see it on the show – I was being flashy and I was definitely materialistic before."