Kim Kardashian West is known for her enviable cleavage that seems to be suspended in mid-air in some kind of gravity defying feat but the reality star has revealed the secret to her uplifting success and the answer is good old-fashioned sticky tape. Yes, just strong gaffertape and a high pain threshold it seems.
In a revealing image posted within her her app as well as a teaser picture to her 60m followers on Instagram, Ms Kardashian West could be seen half-dressed with a makeshift halter bra made from gaffer tape over her breasts.
"You tape them up so they're super lifted," she wrote in a post on her app. "It takes a little work, but trust me, it's all worth it, LOL."
Kim even clears up any confusion for any doubting Thomases out there by admitting "I've used everything from duct tape to packing tape to masking tape, and I think that the best I found is gaffer's tape [super strength tape used for sticking electrical cables etc]. It sticks the best!"
The result may be pretty extraordinary but the after-effect must be mightily painful. The 'Keeping Up With The Kardashians' star had more advice for anyone who wanted to copy her antics at home. "Make sure you don't have any lotions or oils on when you're lifting your boobs up with the tape.' She told her app users 'Just brace yourself for when it's time to take it off, LOL."
Gaffer tape, usually found in tool boxes, can be picked up for less than £10 and is actually not an uncommon bra replacement for those who simply cannot get enough support from regular body tape or cannot get anywhere with the stick on bras or multiway options available. However, if you're looking to try this out at home it must be applied, and removed carefully as the tape can have an adverse effect on sensitive skin and cause damage to the skin.
After a self-imposed selfie-hiatus on social media, following the birth of her son Saint, her second child with rapper Kanye West, it seems Kim is very much back with a bang. The tips added to her app is accompanied by a host of information added to the download that allows the user an insight into what it takes to become Kim Kardashian West.
For something a little less painful to remove, we recommend the following bras to help you out under your evening wear: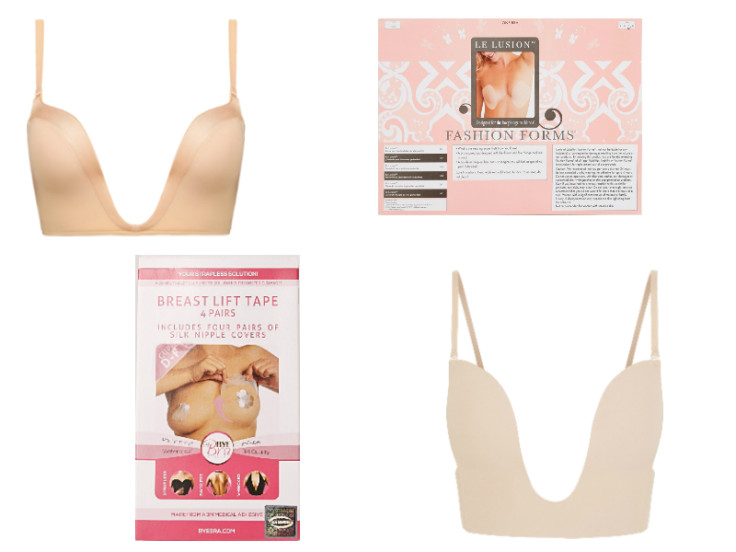 (Clockwise from top left) Wonderbra Natural Ultimate deep-plunge multi-way bra; £32, Debenhams, Fashion Forms Le Lusion stick-on-Bra; £30, ASOS, Bye Bra breast-lift tape, d-f (3-pack); £15, Missguided, Fashion Forms Seamless U-Plunge bra; £25, Net-a-Porter