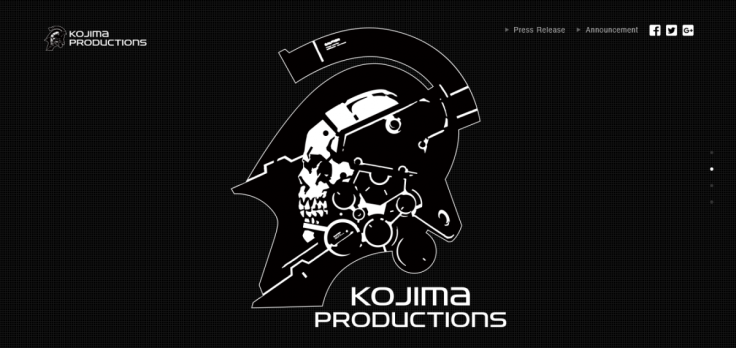 Sony Computer Entertainment and Hideo Kojima have announced a partnership that will bring the Metal Gear Solid creator's next game exclusively to PlayStation 4. Kojima announced on Twitter that his contract with Konami expired yesterday (15 December) and that his studio Kojima Productions is now independent of his former paymaster.
In a press release issued by Sony, Kojima said: "I will be taking on a new challenge by establishing my own independent studio, and I am thrilled to be able to embark on this journey with PlayStation, who I have continued to work with all these past years. I cannot wait to deliver, with PlayStation, a game that will become a compelling franchise."
The announcement is in-line with reports circulating last night from Japanese business publication Nikkei that stated Kojima's contract had expired and was "in talks" with Sony regarding platform exclusivity of his next game. Those talks however, had concluded with a successfully penned deal.
A separate press release issued by Kojima Productions states: "Kojima Productions announced today that it has officially opened its doors. Lead by award-winning game designer, Hideo Kojima, the studio will begin focusing its efforts in developing products that push the boundaries in innovation and ignite consumer interest worldwide."
On Twitter Kojima said: "My employment contract with Konami has been terminated as of 15 Dec, so today marks a new start for me. I'm committed to be involved in creative activities for as long as I live."
Andrew House, Sony Computer Entertainment President and CEO, said: "PlayStation's history is one of game innovation and great new franchises. Hideo Kojima has been a huge part of that history, and we are therefore delighted that he has chosen to bring his brand new project to life in partnership with PlayStation. We look forward to working with him on an exciting new game and warmly welcome him to the PlayStation family."
As exciting as this news is, it's important to remember that Kojima's next game is years away from release.
Issues between Konami and Kojima have been well-reported throughout the year, which saw the release of Metal Gear Solid 5: The Phantom Pain in September and the cancellation of Kojima's Silent Hills collaboration with film director Guillermo del Toro.
It began in March when Konami removed Kojima Productions branding from all promotional materials for The Phantom Pain. In April they cancelled Silent Hills and in July Kojima Productions (under Konami) was allegedly shut down. All this is believed to be the fallout from a Konami restructuring as the company shifts its focus away from console games to mobile games and gambling machines.
In August Nikkei (via Kotaku) further damaged Konami's reputation with a report detailing some of the Orwellian working practises in action at the company, affecting Kojima and many others.
Metal Gear Solid 5 was clearly released with an unfinished story, as evidenced by the release online of footage from a fifty-first mission that was clearly the desired ending of the game. While this won't be confirmed until Kojima or someone formerly of Kojima Productions speaks, this may well have been the root of the rift.
IGN will publish an exclusive interview with Kojima today (16 December) at 11pm GMT.
For all the latest video game news follow us on Twitter @IBTGamesUK.