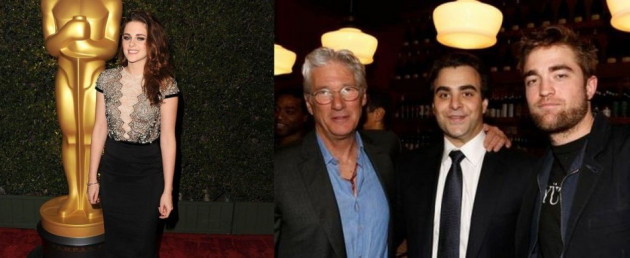 Kristen Stewart made an impressive entry to the Academy of Motion Picture Arts and Sciences' fourth annual Governors Awards, held in Hollywood, California. The 22-year-old Twilight star looked elegant in a Talbot Runhoff lace outfit matched with Christian Louboutin heels. She kept the rest of her ensemble simple, with little make-up and her brown hair left loose.
The awards were presented to honorary Oscar winners Jeffrey Katzenberg, stuntman Hal Needham, documentarian DA Pennebaker and American Film Institute founding director George Stevens Jr. Other guests at the event included Will Smith, Tom Hanks, Quentin Tarantino, Bradley Cooper, Bryan Cranston, Helen Hunt, Amy Adams, Virgina Madsen and Oscar host Seth MacFarlane.
Meanwhile, Stewart's boyfriend and Twilight co-star Robert Pattinson was seen across town with Pretty Woman star Richard Gere at the Arbitrage Luncheon held at Osteria Mozza in Los Angeles. The 26-year-old Remember Me actor also posed for photographs with Arbitrage director Nicholas Jarecki, writer Kirsten Smith and Homeland star Morena Baccarin. Pattinson was dressed casually, with a black T-shirt, denim jacket and heavier black jacket.
Arbitrage (2012) is a thriller that revolves around Roberto Miller (Gere), a successful businessman with a loving family. Unfortunately, Miller finds himself embroiled in illegal activities and tensions between personal and professional secrets form the crux of the film.
Finally, Stewart and Pattinson continue to work on their romantic relationship. The couple endured a turbulent period when it was revealed she had an affair with Rupert Sanders, the director of Snow White and the Huntsman. The two have reportedly reconciled, but Pattinson, it appears, is still working through some of his emotions.
"Rob is at a point where he sometimes ignores her. He'll go out and won't respond to her calls or texts right away. Things will be strained for a while," a source close to Stewart told US Weekly magazine.