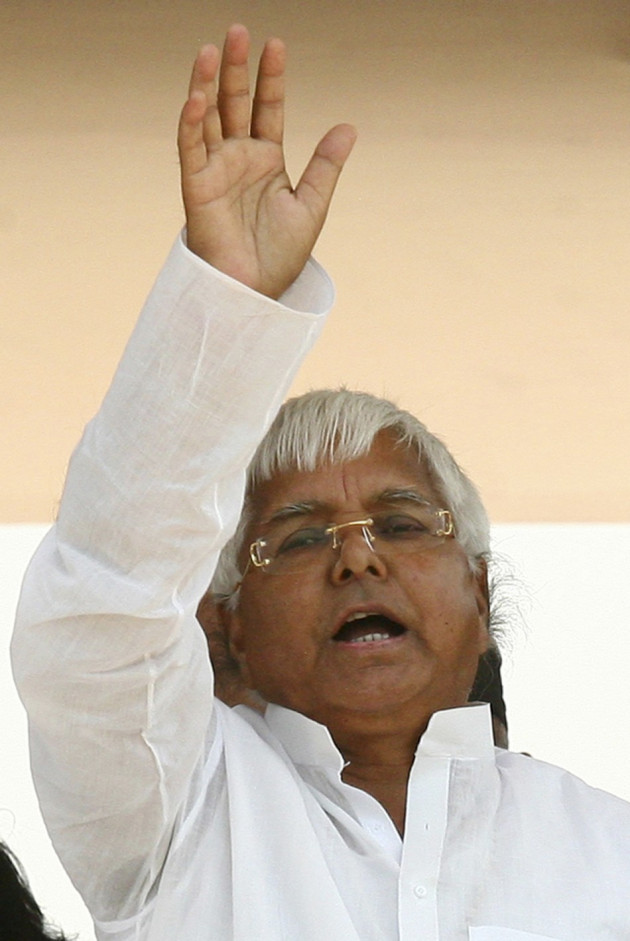 The career of one of India's most colourful politicians, who became a case study for students at Harvard University after he turned around the fortunes of the gigantic Indian Railways, is all but over with an Indian court finding him guilty of embezzling state funds.
Lalu Prasad Yadav, a former Railways minister and chief minister of Bihar state, has been found guilty of siphoning off massive amounts of state funds in the name of running a non-existent cattle fodder scheme in one of India's most backward states.
Not long back, the maverick politician had stunned the world's top management brains by turning around India's vast, unmanageable and loss-making railway network and was chosen as a case study subject for management students at Harvard. The politician, whose idiosyncrasies earned him the image of a clown, had been supremely successful in turning the mammoth organisation, one of the world's largest employers, into a lean, mean business unit.
Yadav, who in his glory days had openly expressed his ambition to become the prime minister of the country, is now facing a jail term, and most likely a forced sabbatical from politics, which will all but wipe out his chances of a comeback, what with the national elections taking place within less than a year.
Yadav's case dates back to the 1990s. The 'likeable joker', whom people loved despite his irascible speech and rustic ways, stepped down as chief minister of Bihar in 1997 when he was named in a chargesheet in the cattle fodder scam. But true to style, he made his wife Rabri Devi, a mother of nine, the chief minister of the state and virtually controlled the government.
The guilty verdict handed by a special Central bureau of Investigation (CBI) court means Yadav will be awarded jail term of between three and seven years. The verdict has already disqualified him as a member of Lok Sabha, the lower house of parliament, but a sentence of more than two years also means he would be ineligible to contest elections for the next six years.
That could effectively seal the political fate of the 65-year old. The court will announce the sentence on 3, October.
In India, politicians have many lives unlike in the West, where a fallen leader rarely gets a second chance. Yadav himself has come off unscathed in a case related to the amassing of disproportionate wealth. He and his wife were acquitted by a court in 2006 of charges that they had made wealth disproportionate to their income.
However, this time the court has found him guilty in a multimillion dollar scam, and the verdict could not have come at a worse time for him.
In July this year, India's supreme court plugged a loophole in the legal system that made it possible for convicted politicians to stay in the business and said any member of parliament who gets s jail term in a criminal case would have to quit office until an appeals court overturns the verdict.
Earlier, it was possible for tainted politicians to stay in office and contest elections by filing an appeal within three months of the judgment. This loophole in the system allowed tainted politicians to be active in politics for indefinitely long.
Following this order, the Congress-led government in New Delhi tried to circumvent it by bringing in an ordinance, or executive order, that would allow convicted politicians to continue to remain in power and stand in elections.
The move had the tacit backing of political parties of all hues as almost 30 percent of lawmakers in parliament and state assemblies in India have criminal charges against them, according to a Reuters report.
However, Rahul Gandhi, the vice-president of the Congress party and a would-be prime minister, threw a spanner in the works of the government, saying the ordinance must be torn apart and thrown out.
Having been publicly shamed by the Congress party scion and the leader-in-waiting, the government is now expected to backpedal on the ordinance.
And this bodes ill for Yadav, who was once a role model for the middle classes for cleaning up the Aegean stable that was Indian Railways, and a darling of the media -- despite him chewing betel leaves and spitting freely during interviews.