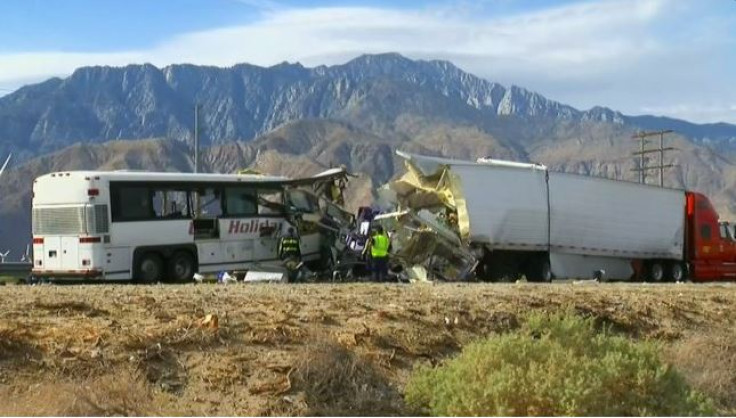 At least 13 people have been killed and 31 others injured following a collision between a coach and a truck on a freeway near Palm Springs, California.
The accident occurred on the westbound Interstate 10, before dawn on Sunday (23 October).
Pictures from the scene appear to show the coach had ploughed into the back of the lorry. The front of the coach had been demolished, as had the back of the lorry, as a result of the force of the impact.
The Riverside County Coroner's office confirmed 13 people killed in the crash had been passengers on board the coach, NBC NewYork reports.
The coach reportedly belongs to a tour company called USA Holiday, based in Alhambra. The passengers had travelled from Los Angeles to Red Earth Casino in Thermal, and had been making the return trip on Sunday morning when the accident happened.
Firefighters used ladders to reach up and pull people out of the bus and a tow truck was brought in to lift the lorry's trailer off the damaged bus. Blankets were used to cover bodies at the side of the highway, while emergency services tended to the injured.
According to The Desert Sun newspaper, the injured people have been taken to three hospitals in the area, about 100 miles east of Los Angeles.
The Desert Regional Medical Centre in Palm Springs has taken 14 patients, all adults, five of whom were in a critical condition. Three others were in a serious condition, while the remaining six had minor injuries.
Two other hospitals treated 16 others for minor injuries, Sky News reports. The truck driver was among those who sustained injuries and was receiving treatment in hospital. .
The entire westbound 10 Freeway west of Indian Canyon Road has been shut down as rescuers continue to search the wreckage for more victims.
The California Highway Patrol will hold a news conference to provide further updates on the crash.