At least 9 people injured as American Airlines plane catches fire in Chicago
The engine of Flight 383 bound for Miami burst into flames on the runway at Chicago's O'Hare airport.
At least 9 people are reported to have been injured after an American Airlines plane caught fire on the runway, seconds before it was due to take off.
Flight 383 bound for Miami erupted in flames at O'Hare International Airport on Friday (28 October)afternoon, ABC 7 reports .
The pilot reported a blown tyre and was forced to abort take-off at around 2:35 p.m. However, when the pilot returned to the runway, fire had broken out on the right-wing engine of the Boeing 767 plane, the FAA reports.
Video shows large plumes of black smoke coming from the Boeing 767 with damage to the rear of the plane, as it stands on the runway.
An eyewitness told ABC news he saw the incident unfold from a vehicle on the runway. "I heard this loud explosion. The number two engine on the first officer side was completely engulfed in flames, there was smoke billowing out," he said. "The entire engine was a big ball of flame."
Emergency inflatable slides were deployed and all 161 passengers and 9 crew members were able to evacuate the plane, American airlines confirmed.
"The 161 passengers and nine crew deplaned on the runway, and buses are enroute to pick up the passengers and bring them back to the terminal," the airline said in a statement.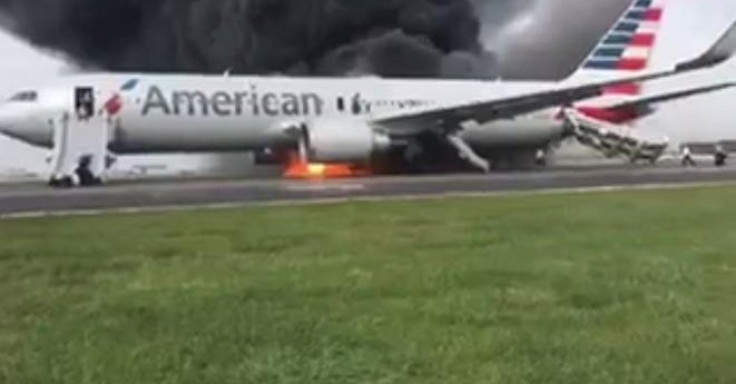 American Airlines added that the takeoff was aborted "due to an engine-related mechanical issue.
It has not yet been determined how the nine passengers sustained their injuries.
Eye witnesses have shared videos on social media of the aircraft ablaze and passengers frantically trying to get off the burning plane.
© Copyright IBTimes 2023. All rights reserved.