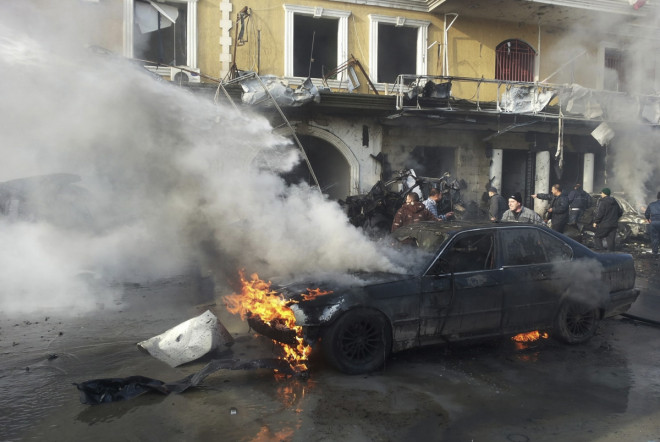 A deadly car bomb exploded in Lebanon as the trial into the assassination of former prime minister Rafik Hariri opened in The Hague.
At least five people were killed after a suspected suicide bomber blew himself up inside a vehicle during rush hour in the northeastern Lebanese town of Hermel, officials said.
More than 40 others were wounded in the blast close to two banks and a government building.
Located a few kilometres from the Syrian border, Hermel is a predominantly Shiite town and a stronghold of Lebanon's militant Hezbollah group.
As plumes of smoke obscured Hermel's skyline, four alleged Hezbollah members were being tried in absentia in The Hague over a massive truck bomb that killed Hariri and another 22 people in Beirut nine years ago.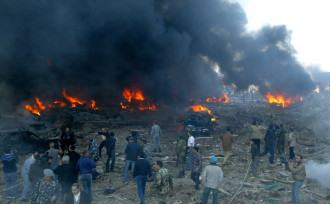 Prosecutors showed the UN-backed court images of the devastated Beirut seafront after the blast which they said turned the Lebanese capital in a "manmade hell."
"It is not that the perpetrators simply did not care if they killed their fellow citizens," prosecuting Norman Farrell said. "Rather they intended to do so.
"The force of the blast was such that Mr Hariri was thrown from his car and it's reasonable to conclude that he died quickly at the scene," prosecutor Alexander Milne added.
Hezbollah's suspected deputy military commander Mustafa Badreddine, and alleged Shiia militants Salim Ayyash, Assad Sabra and Hassan Oneissi are facing charges of terrorism and intentional homicide. They were not in court as they have not been arrested.
A fifth suspect, Hassan Habib Merhi, has also been indicted. His case is expected to be heard at a later date.
Hezbollah denies any role in the killing of Hariri - a Sunni Muslim - and has slammed the trial as a conspiracy by the US and Israel.
The proceedings opened at a delicate time for Lebanon. The civil war in neighbouring Syria has polarised relations between Sunni and Shia and violence has spilled over into Lebanon.
Hezbollah has intervened directly in the war to support the Syrian government, which has long been accused by Hariri's party of being behind the 2005 bombing – something Syria strongly denies.
Syrian president Bashar al-Assad and his ruling elite belong to the Alawite Muslims, a Shia offshoot and are facing a predominantly Sunni rebellion.
In Beirut, dozens of Hariri supporters gathered near the site of bombing and unveiled a giant billboard with a photo of the late leader and a sign that read "time of justice."