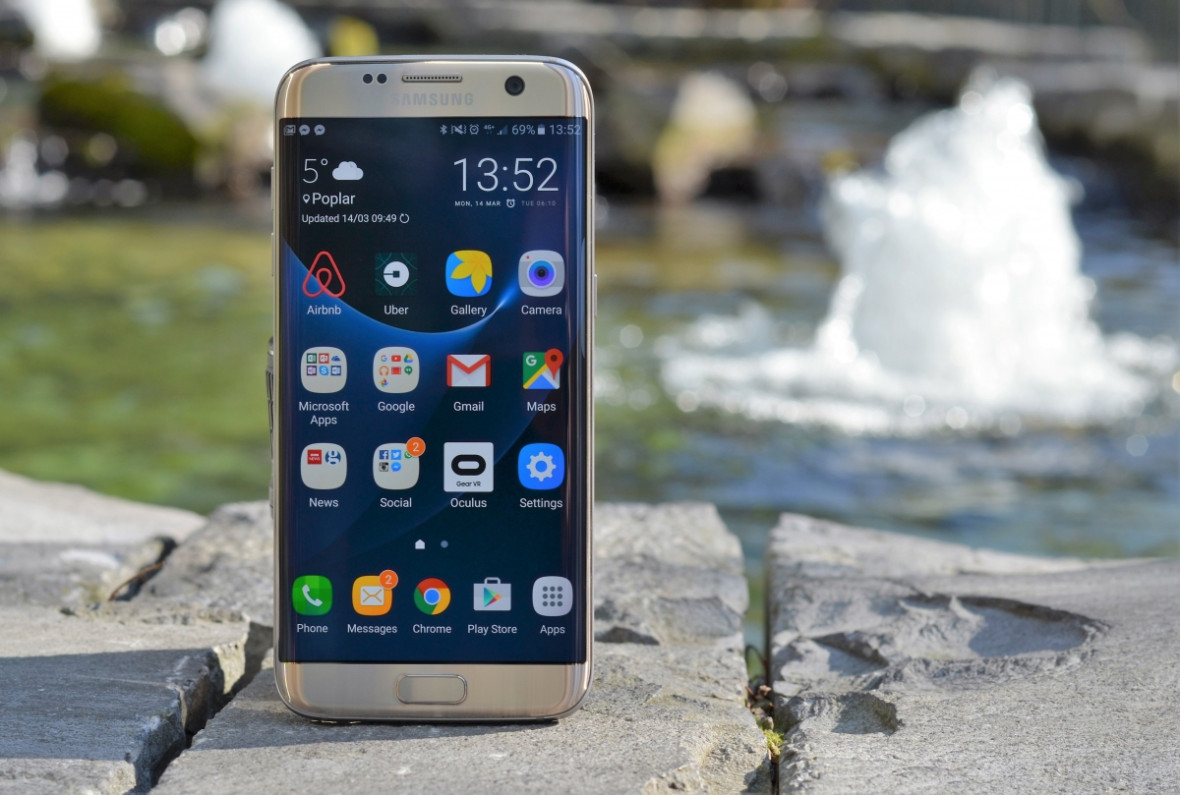 The Galaxy S6 was a triumph for Samsung when it launched in 2014. It undid two years of mediocre instalments to the company's flagship S range with a pair of handsets which finally matched the desirability of the iPhone. For 2016, Samsung has opted for evolution over revolution with the Galaxy S7 and larger, curved Galaxy S7 Edge. Both handsets look very similar to their predecessors, but it's what's on the inside which makes these phones truly special in their own right.
This phone was provided for review by Carphone Warehouse, where the Galaxy S7 Edge is on sale now
---
Samsung Galaxy S7 Edge: Design
Key specifications
Screen: 5.5in, resolution of 2560 x 1440, 534 pixels per inch
Cameras: Front 5 megapixel, rear 12 megapixel
Processor: Exynos 8890 Octa with 4GB RAM
Storage: 32GB with microSD card slot for up to 200GB more
Software: Android 6.0 Marshmallow with TouchWiz UI
Measurements: 150.9 x 72.6 x 7.7mm. Weighs 157g
Colour options: Black, gold
Price: £639
I loved the curved screen of the S6 Edge last year and I feel just as strongly about it on the S7. The curves are no different from before and they remain more of a pretty gimmick than a useful and practical feature. But that doesn't matter because they look great and make me want to reach out and touch them. The glass rear panel subtly curves around to meet the phone's aluminium chassis, improving grip over the flat-backed S6 Edge.
By pushing the screen to the very edge of the phone, Samsung has created a handset which is far more compact than the iPhone 6S Plus. Both have 5.5in screens, but the iPhone is 7.3mm taller, 5.3mm wider and 25g heavier. These are huge differences and make the iPhone feel vast in comparison; it undercuts the Samsung's thickness by 0.4mm, but the curved front and back of the S7 hide this.
One criticism I have of the S7's compact design is how close the touch sensitive front buttons are to the user's hand. I often hit the multitasking button with my thumb palm when stretching across the screen. Ergonomics of the Galaxy S7 Edge are otherwise good, with the side-mounted power and volume buttons always within reach and the fingerprint reader in the home button taking a positive reading from my thumb at any angle.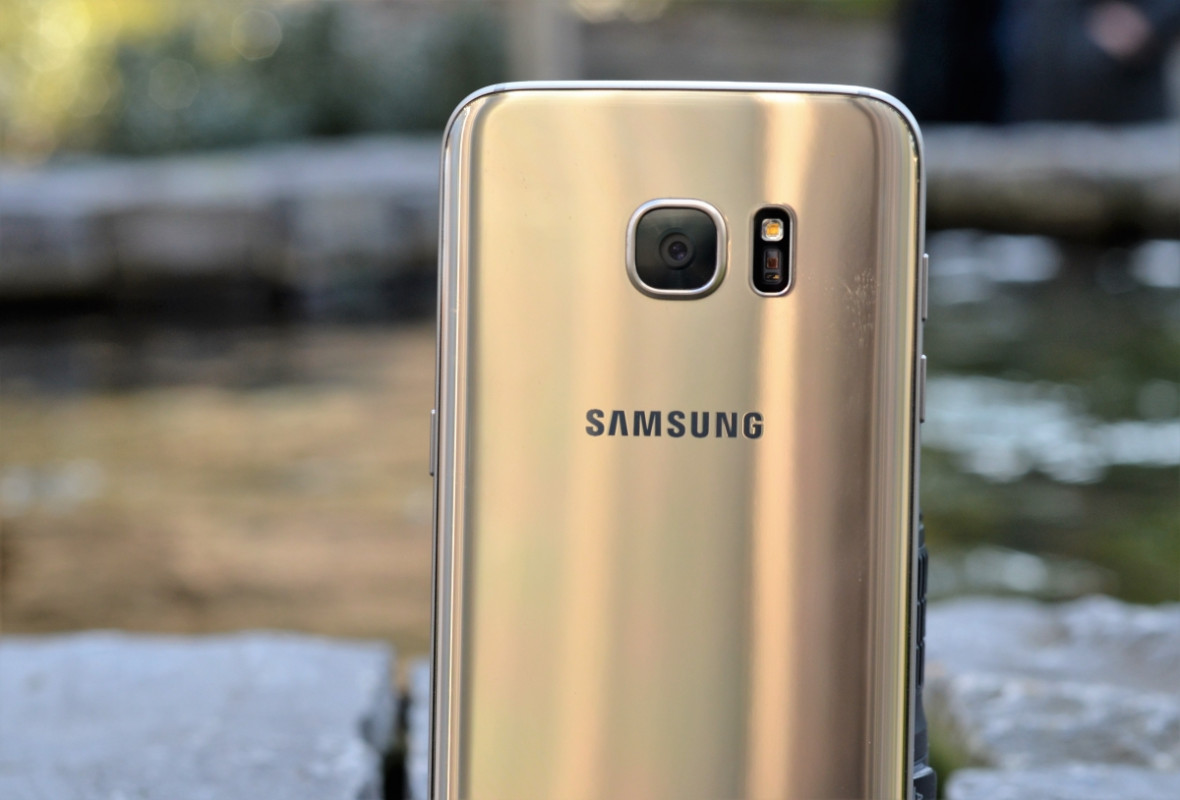 Colour options are black and gold, and while the latter may seem most appealing, I found it to be too shiny and reflective, to the extent that reflections distracted me from the screen.
This tiny criticism aside, from a design perspective the S7 Edge is an absolute triumph which makes the iPhone look and feel dated. I still love my iPhone 6, but, as far as design is concerned Samsung has taken the lead and is pulling away. The iPhone 7 will have to be very special indeed.
Samsung Galaxy S7 Edge: Screen
Unchanged from the Galaxy S6 Edge, the 5.5in panel is simply gorgeous. AMOLED technology means colours are bright and vibrant; blacks are incredibly deep and it is plenty bright enough to read outdoors. The 2560 x 1440 resolution is double that of the iPhone 6S Plus, but you would struggle to notice the difference during normal use. However, the extra pixels help when you attach the Gear VR, Samsung's £80 virtual reality headset. I'll speak more about this in a separate review.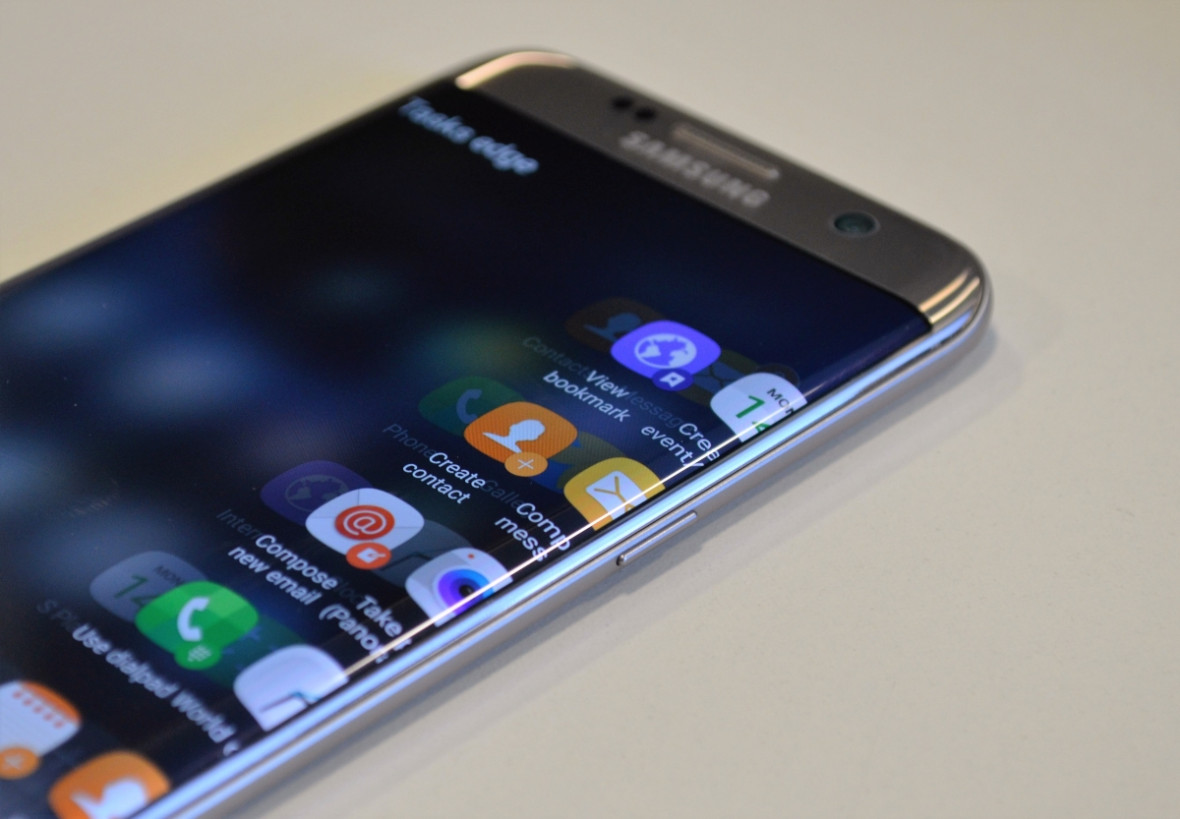 Samsung Galaxy S7 Edge: Features, software and performance
This is where the Galaxy S7 Edge starts to pull away from its predecessor, and where two simple improvements have made a world of difference. They are waterproofing and a MicroSD card slot. The former means the S7 Edge will survive a plunge into 1.5m of clean water for 30 minutes; there are no port covers and no visual clues to give away the waterproofing. The latter means the 32GB of included storage can be increased by up to 200GB. This is something the iPhone has never had and makes its 16GB of entry-level storage look completely inadequate.
Another improvement over the S6 Edge is the S7's massive battery. At 3,600mAh it is a full 1,000mAh larger and also includes fast charging over both USB and wireless. With the included charger the S7 Edge receives five hours' use from a 10-minute charge. Battery life is very good and a full day and night is easily achievable with another half-day still in the tank.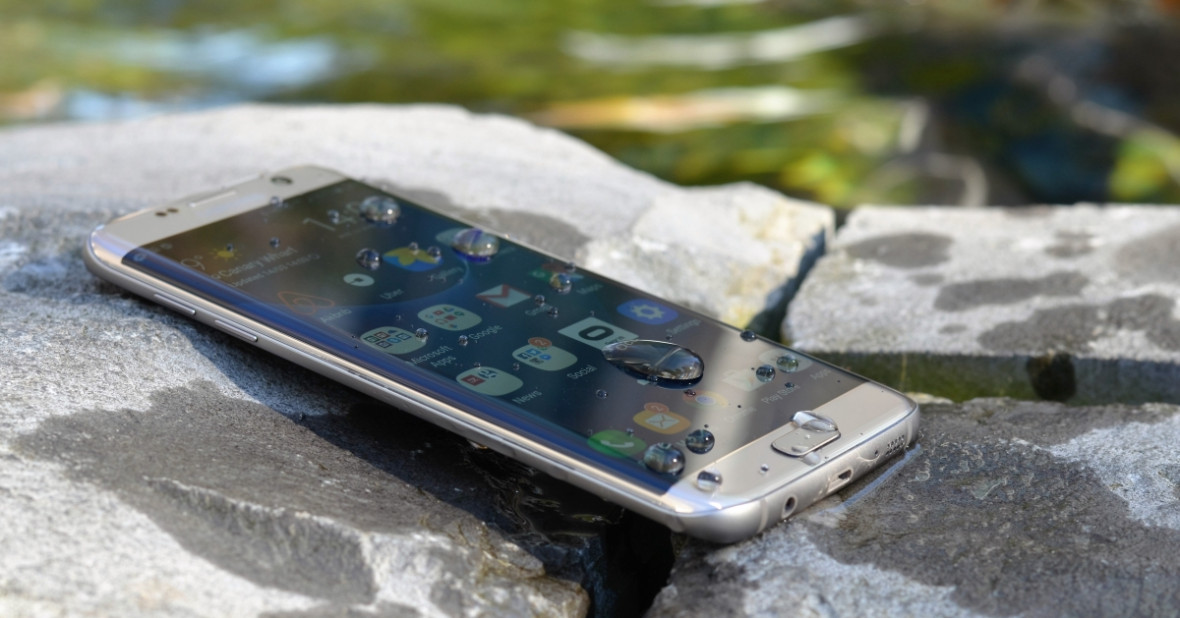 A new always-on screen feature means the time, date, battery level and unread notifications are displayed permanently when the phone is locked. Despite sounding like a battery drainer, this feature consumes 0.8% per hour, Samsung claims. A negative here is how the notifications widget does not show unread WhatsApp messages.
Fast charging, a larger battery, waterproofing and expandable storage are all genuinely useful features which will make themselves felt every day. They are also a world away from the Samsung of a few years ago which offered gimmicks like making the screen scroll by moving your eyes.
Touchwiz
Samsung often draws criticism for modifying Android with its own software and user interface, TouchWiz. Although this returns on the S7 Edge to modify its Android 6.0 Marshmallow operating system, the changes are more subtle than ever. Better yet, most of Samsung's software can be ignored or disabled (but not uninstalled). Some app icons look a little childish, but otherwise TouchWiz and Android 6 work well to offer a competent and convincing alternative to Apple's iOS.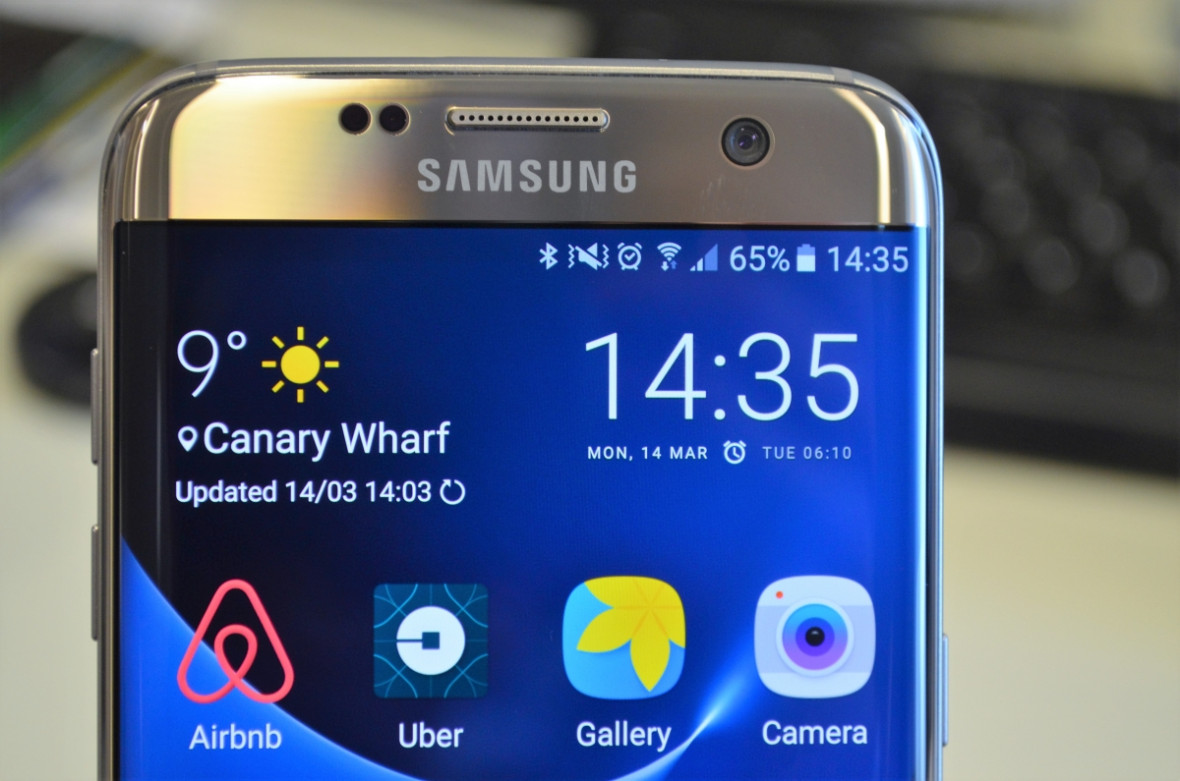 Differentiating the Samsung from other Androids is Upday, a news aggregator to the left of the home screen. It's a fairly nice thing to have and can be customised to deliver the news you want, but won't be for everyone. Thankfully it can be switched off with just a couple of taps.
An Exynos octa-core processor with 4GB of RAM means the S7 Edge absolutely flies. Performance is excellent and the phone never slowed down, stuttered or needed a reboot during a week of using it as my only handset.
Samsung Galaxy S7 Edge: The edge display
As well as looking cool, the edge display has a couple of uses. First, you can leave the phone face down and be alerted to calls when the curved edges glow a different colour depending on who is calling you. Secondly, a swipe over one edge brings up various panels containing shortcuts to contacts and favourite apps, plus a compass and ruler, the weather, and news headlines.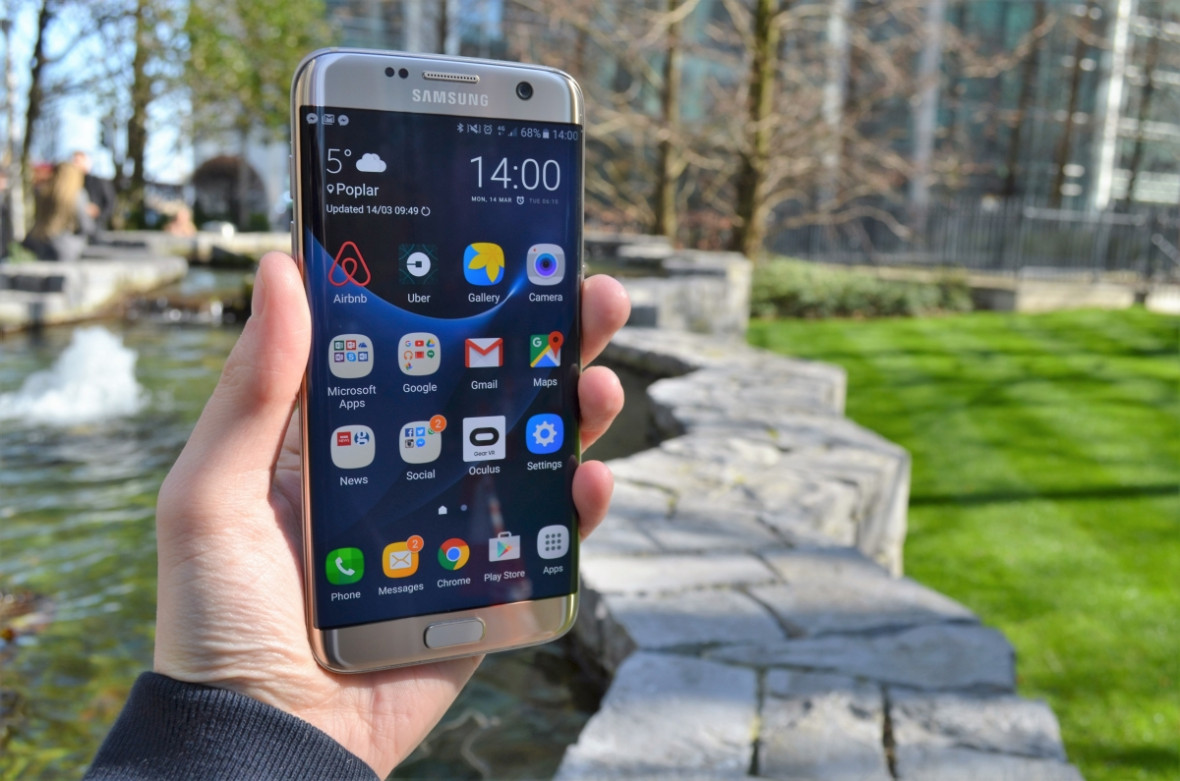 Samsung Galaxy S7 Edge: Camera
A 12-megapixel sensor, optical image stabilisation and an f/1.7 lens make the rear camera one of the best on any smartphone. The S7's low-light performance is especially good and a marked improvement over my personal iPhone 6; the high level of detail, good balance of what light is available and lack of blur all make for beautiful night-time shots.
Here is an example of a photo taken with the S7 Edge. I shot this in automatic, handheld, and several hours after the set had set.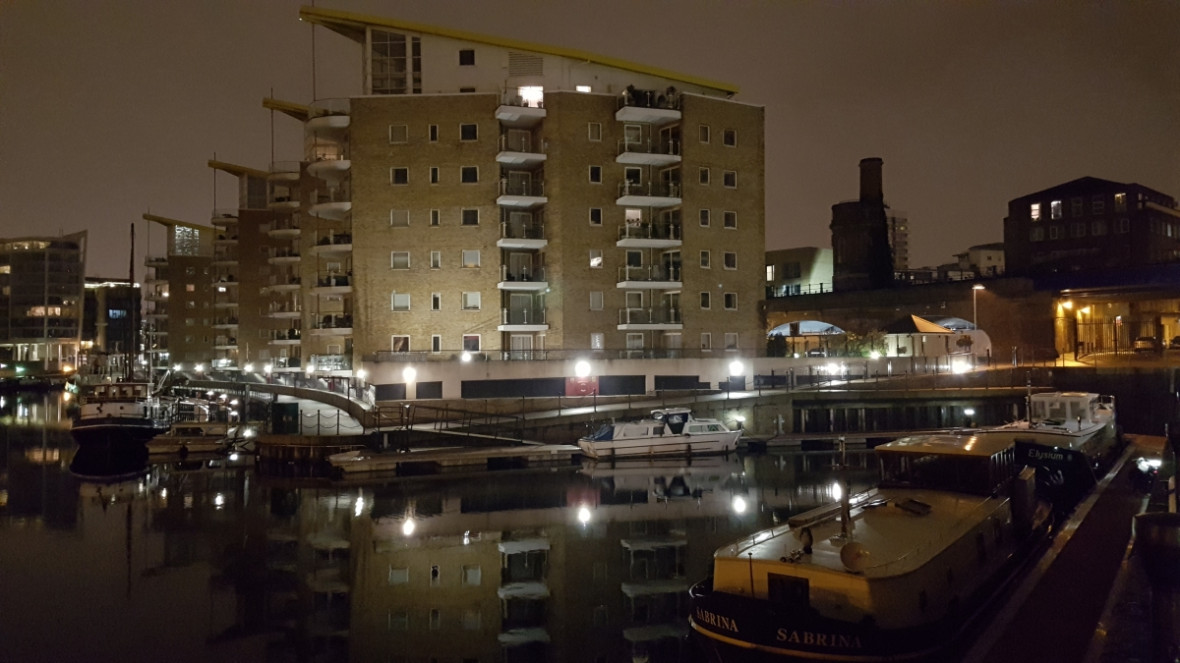 I mostly left the camera app in automatic and was hugely impressed by the results, especially the speed of the autofocus. There is a full manual mode for those who want it, plus Samsung's equivalent of Apple's Live Photos, which records three seconds of video before each photo, and a mode for taking photos of food.
The 5MP front camera is less impressive but still gets the job done. Pandering to selfie-takers looking for the perfect Instagram shot, it softens photos to flatter you and create a more even skin complexion. There are also a range of 'beautifying' controls to make your face thinner and eyes larger.
Our verdict
Samsung has produced the best phone of the year so far. The Galaxy S7 Edge takes everything we loved about the S6 and adds in everything that was missing to create the best handset you can buy right now. That accolade might change when the HTC 10 or iPhone 7 come along, and we\'re yet to spend much time with the LG G5, but it would be an almighty achievement for any of these, the iPhone included, to beat Samsung.
The hardware looks and feels premium, the screen is gorgeous, Samsung is finally learning to make decent software without ruining Android, and the camera is superb. Add in the quirky curved screen, waterproofing, expandable storage and fast charging, and the S7 Edge is the perfect smartphone.
Scores:
Screen: 9/10 - Brilliantly clear and crisp, but might be too large for some users
Camera: 9/10 - Rear camera is just about perfect, but front produces very soft, artificial photos
Software: 8/10 - Samsung's best attempt yet, TouchWiz improves every year but never quite matches regular Android for simplicity
Design: 9/10 - Looks stunning, but can be difficult to hold with cold hands. Glass front and back will likely crack or smash if dropped. Front so reflective it can be distracting
Build quality: 9/10 - Feels very sturdy and well made, but crackable glass could be a future concern
Overall: 10/10 - A superb smartphone which is perfect in almost every way
The Good
Great design
Excellent rear camera
Waterproof without compromise
The Bad
Front camera is very soft
Screen might be too large for some
Expensive