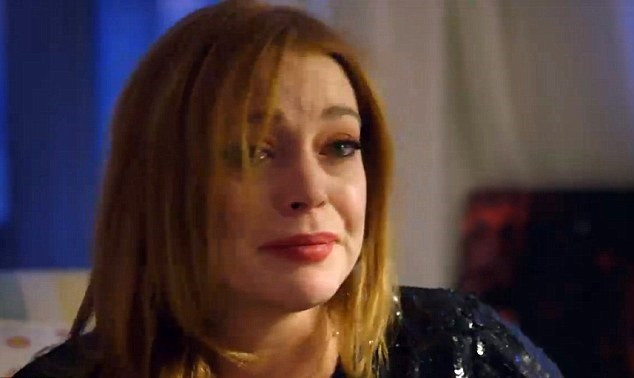 Lindsay Lohan has admitted that a list of her alleged celebrity sexual partners is authentic.
The 36-strong list included names such as Ashton Kutcher, Colin Farrell and Orlando Bloom was leaked by Touch magazine in March.
In a preview for the finale of her docu-series on Oprah Winfrey's OWN network, Lohan refers to the list saying: "The fact that that happened was not only humiliating, but just mean."
Breaking down she says: "The story's on Page Six right now. This actually really is annoying now. It's f***ed up and I don't want a part in it."
But it was during an appearance on Bravo's Watch What Happens Live that the troubled star claimed ownership of the list and revealed the reason why the list was compiled in the first place.
"[It was] actually my fifth step in AA [Alcoholics Anonymous] at Betty Ford," she explained.
"Someone, when I was moving during the OWN show, must have taken a photo of it, so that's a really personal thing. It's really unfortunate. And I talk about it in the last episode of the show, so to be continued..."
Pressed by host Andy Cohen to reveal whether the names included on the list were accurate the embarrassed actress laughed, covering her eyes before saying: "I cannot confirm or deny."
"You cannot confirm or deny two of the names I just mentioned?" he said, having named Ashton Kutcher, James Franco and Orlando Bloom, among others.
"I plead the fifth," she insisted.
While the majority of the stars named on Lohan's infamous sex list have remained silent on the matter, actor James Franco cast doubt on the veracity of the list saying: "Lindsay herself has told lies about me with her people-she's-slept-with list!"
After her life has come under close scrutiny in the media following a charge of driving under the influence of alcohol and possession of cocaine, the troubled star was invited by Oprah Winfrey to let cameras into her world for an eight part fly on the wall TV series on the OWN network.
Poor ratings has resulted in the show being scrapped after the first series, however the two-hour finale is expected to win audiences as Lohan speaks candidly about that list and her struggles with alcoholism.
'It's a really f***ed up disease and it's really scary," she sobs as she discusses her alcoholism in the preview.
The former child star who first found fame with The Parent Trap seems to have realised how much she has lost due to her alcohol addiction.
"I'm seeing all these other actresses do all of these things and then just realising, 'Oh s***, I don't have that anymore.'"
Asked if she had any regrets about laying her life bare in the docu-series, the 27-year-old said: " I don't regret it at all. Oprah's literally been a blessing to me in my life. It's been nice to show who I am as a person."
However, in a worrying sign that the Mean Girls star seems to have lost the struggle to stay sober, she was recently seen in an apparently inebriated state while partying with her younger sister Ali Lohan at the Coachella music festival.
A source told InTouch Weekly: "She couldn't stand up straight and she was frantically chain smoking cigarettes. In one of her hands she had a plastic cup with a clear liquid in it."
"I overheard the friend order four vodka sodas and, when he carried them back to the group, he handed one to Lindsay and she started drinking it," the source added. 'She didn't seem to care who saw and none of the group seemed concerned."
The finale of Lindsay Lohan's docu-series on the OWN network is broadcast on Sunday 20 April.