Lindsay Lohan is pregnant! Or so she says.
The troubled Hollywood star tweeted: "It's official. Pregnant..." And the post did come from a verified account registered in her name. However, as several users commented, the timing of the tweet, coming as it did on 1 April - April Fools' Day - was a little suspicious.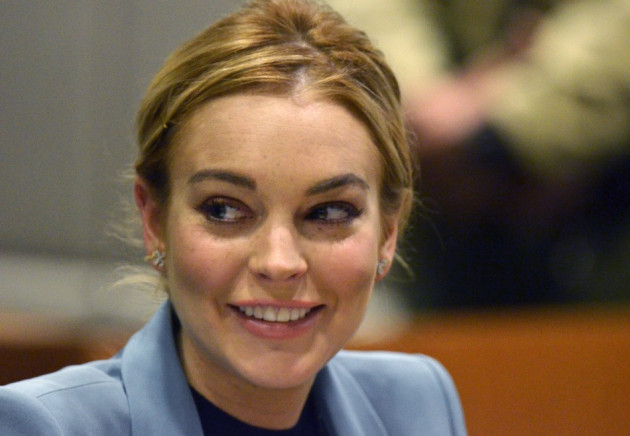 The account - @lindsaylohan - has nearly six million followers and the "pregnant" post has been re-tweeted over 12,000 times, suggesting it may actually be true. And celebrity blogger Perez Hilton weighed in as well.
"@PerezHilton She be truth-telling tonight!!! RT @lindsaylohan Its official. Pregnant... and @PerezHilton has a very large p***s!"
Comedian Dave Rubin and another blogger, Dominic Scott Riccitello, also joined in to comment, and they too were less than complimentary about the news.
"@RubinReport I'm picturing the alien bursting out of Sigourney Weaver's stomach. RT @lindsaylohan: Its official. Pregnant..."
"@DominicScott is lindsay lohan late to april fool's like she's late to court or is she really pregnant"
As for the father, if there is indeed a baby, it was recently revealed the Mean Girls actress is dating Avi Snow, a guitarist for the indie band City of the Sun. The two were photograph at the band's weekend show at the 41 Ocean club in Santa Monica.
"She's really awesome, and she's a lot of fun," Snow said when asked about Lohan, "I would definitely call her one of our biggest supporters."
Meanwhile, Lohan who has been ordered to enter rehab for prescription drug and alcohol addiction treatment has reportedly told prosecutors she will go only if allowed to take Adderall.
According to a report by TMZ, the actress, who was previously diagnosed with Attention Deficit Hyperactivity Disorder (ADHD) has been taking Adderall for years, and believes she cannot function without the drug.
Finally, while on the subject of drug abuse, her father, Michael Lohan recently wrote an open letter to Mike Heller, her agaent, after seeing her partying in Brazil.
"I am telling you now if you are with Lindsay in Rio or you booked it, and anything happens to my daughter, I am holding you personally responsible," he warned, "Judging from what has happened to in the past, and the way she looks down there from the pictures in the media, it's not a good thing. If you have anything to do with her being there, its on you. Count on it."