London Bridge Millwall 'hero' filmed spitting in black man's face during shocking racist tirade
Roy Larner was feted for his shout of 'f*ck you I'm Millwall' at terrorists during attack.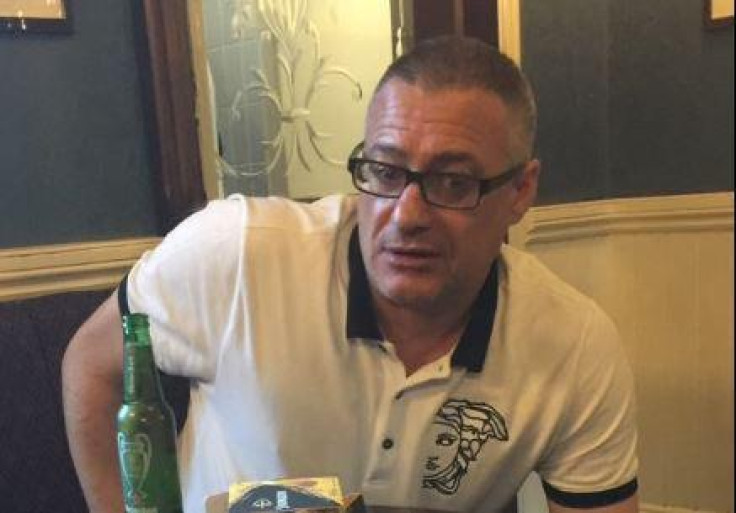 A man who was praised for his actions after confronting the terrorists during the London Bridge terror attack has been filmed engaging in a foul-mouthed racist tirade.
Roy Larner was hailed as a hero after reportedly shouted "f**k you I'm Millwall" while fending off the attackers and protecting customers and staff at the Black & Blue steak restaurant in Borough Market during June's attack.
Footage filmed in February has now emerged showing Larner declaring his support for the National Front and spitting in a black man's face during a demonstration in Elephant and Castle, south London.
Larner can be seen walking two dogs before confronting those taking part in the protest to shout "ban the foreigners, you c**t" before spitting at a black man who was photographing the event.
During the rant, Larner can also be heard repeatedly swearing at the demonstrators, calling them "paedophile c***s", "people like you stink like s**t" and telling foreigners in the UK to "f**k off".
He is also filmed shouting "foreign c***s. F*** off. F**k off you rapist c***s," during the clip, which lasts just over 90 seconds.
Larner then gets into another conformation with a photographer while attempting to cross the road, with protesters chanting "we fight back when the racists attack" after him.
Following the London Bridge terror attack, which saw Larner stabbed eight times, thousands of people signed a petition urging the Millwall supporter to be awarded the George Cross medal of bravery.
A Justgiving page raising funds for the "proper hero and deserves our support and aid to help him on his recovery" has since raised more than £55,000. Elsewhere, Frequency Beer Works, a brewery north of Stockholm in Sweden, created a 5% English bitter in his honour.
Speaking to The Sun in the wake of the attack, Larner said: "They [the terrorists] had these long knives and started shouting about Allah. Then it was, 'Islam, Islam, Islam'.
"Like an idiot I shouted back at them. I thought, 'I need to take the p**s out of these b**tards'.
"I took a few steps towards them and said, 'F*** you, I'm Millwall'. So they started attacking me. I stood in front of them trying to fight them off. Everyone else ran to the back.
"I was on my own against all three of them, that's why I got hurt so much. It was just me, trying to grab them with my bare hands and hold on. I was swinging."
© Copyright IBTimes 2023. All rights reserved.