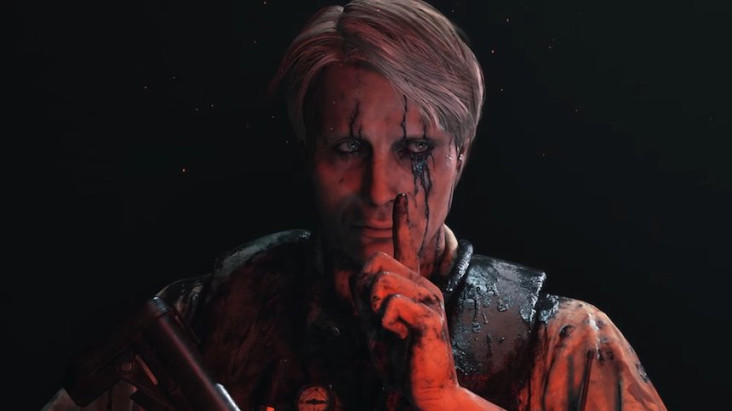 Hideo Kojima's highly-anticipated upcoming game Death Stranding has been shrouded in mystery since it was first announced with a bizarre, cryptic trailer during E3 2016. Even Hannibal actor Mads Mikkelsen, who is starring in the game, has admitted that he was confused when Kojima tried to explain the plot of the project to him.
"He was trying to tell me the whole plot of the game, and it's so elaborate that, I mean, I got lost," Mikkelsen said at the Saudi Comic Con in Jeddah, Saudi Arabia, Metal Gear Informer reports. "But I really wanted to learn more."
Mikkelsen also confessed that he did not know who Kojima was before he was approached for the part.
"I'm not personally a big gamer, but my son is," Mikkelsen said in an interview on stage. "Kojima approached me for this video game and I didn't know who he was. I told my son, 'Do you know him?' and then my son said, 'Dad, you are crazy. You have to do this.'
"Then I met [Kojima] and he's just a wonderful charismatic person. A genius in his field."
When questioned about rumours that Academy Award winning actress Emma Stone will also be joining the game's cast, Mikkelsen said, "I don't know about that."
"But I really like that rumour," he jokes. "That's a lovely rumour."
The Walking Dead star Norman Reedus will be starring in the Death Stranding along with director Guillermo del Toro. Kojima Productions has also hinted that the game will include a female protagonist alongside Reedus.
When Mikkelsen started to work on the game, he did have some concerns about the type of motion capture technology that the developer, Kojima Productions, was using. The Danish star said it was "completely different" from the technology he had used in the past. However, he says Kojima made him feel "at home and relaxed" during the process.
During the Game Awards in December last year, Kojima unveiled another dark and equally mysterious trailer for Death Starring featuring Mikkelsen and del Toro.
In a recent interview with PlayStation Australia at RTX Sydney, Kojima described Death Stranding as an open-world action game — an open world game "with a lot of freedom".
"You have a lot of freedom of choice to do what you want to do and you can get in vehicles and so on," the Metal Gear Solid series creator explained. "If you are a fighter, there's plenty of opportunity for that. If you're not that type of player, there are other ways to play this game.
"I can't really say much more, but it's an open-world, action game that's very intuitive to play. Once you get into the world and start to explore more, we're hoping there's something there you've never seen before."
Regarding the game's development status, Kojima said they are still hiring new staff to work with them in their new Tokyo-based office.
"We're still running tests on the game, but we have made it to the stage where we have the framework worked out," he said. "This year is all about hardcore production and development, so please look forward to the fruits of our labor further down the road."
Death Stranding will release as a console exclusive for PS4 and for PC. The developer has yet to officially announce a release date for the game, but has teased that it could be released in 2018.