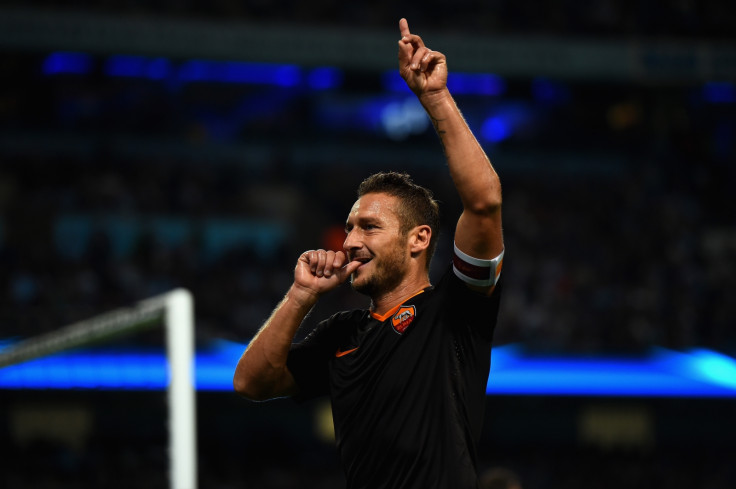 Italian football star Francesco Totti has been unwillingly drawn into a high-profile Mafia case in Rome by a defendant who has claimed Totti paid off-duty policemen to protect his children. Luca Odevaine, a former Rome's mayor chief of staff, told authorities the AS Roma legend sought the help of local officers in 2008 after hearing rumours of a kidnap threat against his children.
"Policemen acted as bodyguards to his children. They did so outside of working hours and they were paid under the table by Totti himself," Odevaine told detectives, according to court documents seen by Italian media.
Odevaine maintained the informal arrangement was suggested to the 39-year-old footballer by city officials worried that a police escort would have been too indiscrete. The kidnap rumours were later reportedly revealed to be unfounded.
Totti has not commented on the claim that came as Odevaine is on trial in Rome, along with another 45 politicians, mobsters, businessmen and go-betweens, accused of running a large criminal ring that dominated the capital over the past 10 years.
Police alleged the gang used corruption and intimidation to secure lucrative business contracts and favours from the Lazio Region, the Rome municipality and associated businesses.
At the top of the Mafia-style network was legendary one-eyed boss Massimo Carminati, who was arrested along with 27 other people in December 2014. Investigators questioned Odevaine over Totti's children's alleged escort to understand if public money was used outside of official channels.
Odevaine, who was responsible for the coordination and distribution of migrants in the country, is accused of taking kickbacks to assign the contracts for the handling of reception centres to friends. He is cooperating with authorities.
The trial, which touches the hearth of Italian politics, with politicians from the left and right among those indicted, has been dubbed Mafia Capitale.