Like most big cities, Johannesburg has had its fair share of famous residents at one time or another.
Probably the most well-known is Nelson Mandela, who lived in many areas, including the nearby township of Soweto and the upmarket northern suburb of Houghton, depending on his fortunes at the time.
Then there was L. Ron Hubbard, the controversial founder of the Church of Scientology, who made his abode in the affluent neighbourhood of Linksfield Ridge for six months in the early 1960s in order to get his South African operations in order.
Another world-renowned inhabitant of Jozi's streets for a good 12 years or so, was Mahatma Gandhi.
The human rights activist first arrived in Durban as a young lawyer in 1893 to handle the legal affairs of Indian merchants flooding in at that time to serve the needs of a burgeoning Asian population.
But by early 1903, as Gandhi's clientele increasingly started moving to Johannesburg in the wake of the gold rush, he decided to follow the money, upping sticks and starting his own legal practice at 15 Rissik Street in Joburg's city centre.
There's even a life-sized statue of him as a young man standing in his legal robes opposite the original offices, in what was one time called Van Der Bijl Square, followed by Government Square, but has now been renamed Gandhi Square.
Disappointingly though, it's scarcely in the most salubrious, or picturesque, part of town. It is instead right next to a big, ugly bus terminal surrounded by scruffy, decaying tower blocks, which scarcely set the statue off to best advantage.
Nonetheless, the location is an appropriate one as it was where Johannesburg's first court building once stood, a place where Gandhi first appeared as a lawyer and was also handed down various prison sentences for political activism before ending up in prison at The Old Fort.
Now part of the Constitution Hill complex, which has housed South Africa's Constitutional Court since 2004, the much-reviled prison, commonly known as 'Number Four', housed both common criminals and anti-apartheid protestors such as Joe Slovo and Nelson Mandela.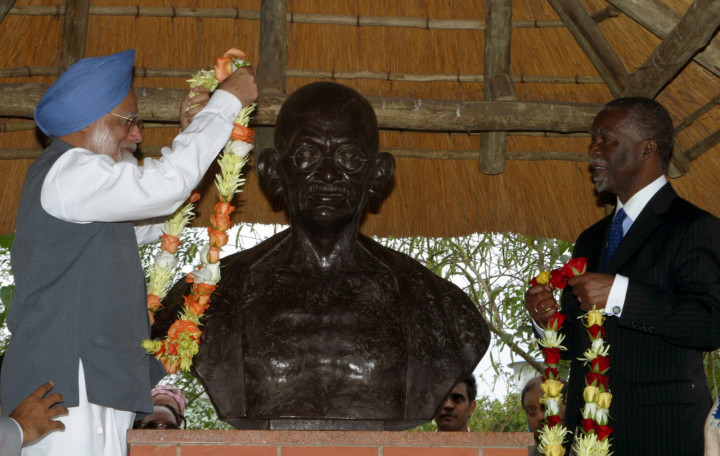 Gandhi the liberation figure
Apart from a couple of short spells in England and India, Gandhi ended up staying in South Africa for a total of 21 years, only leaving in 1914 at the outbreak of the First World War.
The country certainly appears to have been key in moulding him into the influential liberation figure that he became. As Gandhi said himself: "Truly speaking, it was after I went to South Africa that I became what I am now. My love for South Africa and my concern for her problems are no less than for India."
So the country obviously had a massive impact on him – and not always in a positive way. Because the reason that he decided to stay here for so long was to fight the full-on racial discrimination that he and other Indians suffered routinely, with the perfectly reasonable aim of wanting to be treated as equals.
Although the noose of racist laws had been tightening for some time, the final straw came in 1906, following the proposed introduction of the Asiatic Law Amendment Ordinance.
The idea was that all Indian and Chinese people would be required to register their presence in the now defunct province of Transvaal - of which Pretoria was the capital - give the authorities their fingerprints, and carry so-called passes as identity documents.
As a direct result, protestors got together at the Empire Theatre on downtown Commissioner Street, now the site of a cinema complex called the Kine Centre.
In fact, it was here that Gandhi first declared the very policy of passive resistance that served to rid India of British colonial rule. Based on the notion of 'Satyagraha', which means 'truth force' in Sanskrit, the idea is that violence begets violence and therefore ends up being counter-productive.
So, although the peaceful demonstration that followed the Empire Theatre gathering ended up in jail-terms for everyone concerned and was ultimately futile, it also made history, marking Joburg out as the birthplace of the philosophy.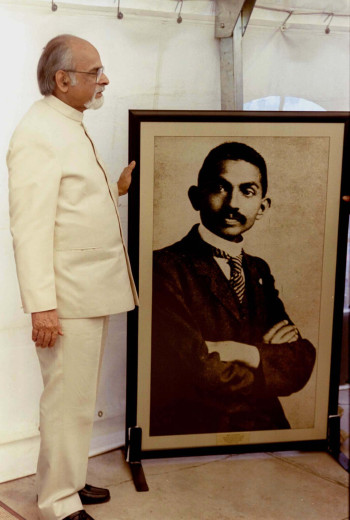 Satyagraha House
While it appears that Gandhi lived and agitated all over Joburg at one time or another, one former haunt of his really worth visiting is Tolstoy Farm, now known as Satyagraha House.
Built in what at the time was just empty veld far from the burgeoning metropolis by Hermann Kallenbach, a German-Jewish architect with whom Gandhi is said to have had a gay relationship despite an earlier vow of celibacy, it has now morphed into a guesthouse and museum in the south-eastern neighbourhood of Orchards.
And it's lovely. So lovely in fact that it has just won a 2014 TripAdvisor Certificate of Excellence and was listed as being among the country's top 50 tourist attractions by leading South African online travel agency, Travelstart.
Although the House's disconcertingly suburban approach makes you wonder what you're going to find when you get there, once you move beyond the functional, little reception area, a tranquil haven of peaceful serenity and calm awaits you.
Set in a pretty, well-tended garden, the white-washed main house-come-free-of-charge museum, with its thatched roof, two bedroom rondavels and charming dining area leading onto a stoep (veranda), is simple yet stylish. It's all about wooden tables, woven baskets, black ceramic pots, and little panels with Gandhi quotes on them.
Run along similar communal lines to a kibbutz, at its peak, Tolstoy Farm was home to 50 adult satyagrahis and 30 children who tended the fruit trees, grew their own vegetables, and lived an ascetic life of personal and spiritual discipline.
These days though, the museum and nine-bedroom guesthouse is owned and managed by Voyageurs du Monde, a French tour operator that invested about R20 million (£109,000) in purchasing and renovating the place, which opened for business at the end of 2011.
And it's been careful to keep the spirit of Gandhi at least nominally alive. So the double rooms are all TV-, alcohol- and cigarette-free, although there is a smoking area out back and Wi-Fi on tap. The restaurant, located in the museum, serves only organically-grown vegetarian food and there are morning yoga and meditation classes for those keen to get into the vibe.
But with accommodation starting at €175 (£138) in low season and rising to €590 (£466) for a family cottage in high season, it isn't exactly cheap and cheerful. Gandhi, presumably, would turn in his grave.