A 25-year-old man has been arrested in Newport, Wales, in connection with the Parsons Green terror attack earlier this month which left 30 people injured on a London tube train, Scotland Yard has said.
The 25-year-old man was arrested at approximately 7pm on Tuesday (19 September) by officers from the Met's Counter Terrorism Command, supported by colleagues from Gwent Police and the Welsh Extremism and Counter Terorrism Unit (WECTU).
A search is taking place at the address following the arrest.
Two other men who were arrested on Saturday (16 September) remain in police custody after a District Line tube train was targeted by terrorists on 15 September.
Police say that searches at two addresses in Surrey and a commercial property in Hounslow are still ongoing and are expected to last some days.
Previously, an 18-year-old man suspected of planting the crude bomb on the packed tube train was apprehended by two unarmed Kent Police officers at the port of Dover.
It has been reported that the suspect was a refugee from Iraq and he is expected to remain in custody until 23 September.
London's Metropolitan Police (MET) arrested a second suspect in connection with the terror attack at a Middle Eastern chicken shop in Hounslow.
Then, on Saturday night (16 September) officers dressed in forensic clothes apprehended 21-year-old Yahyah Farroukh outside Aladdin's Fried Chicken, according to an eyewitness.
Believed to have been an refugee from Damascus, Syria, Farroukh is expected to remain in custody until 21 September.
The two men are thought to have known each other after living with the same foster parents at an address in Sunbury-on-Thames, Surrey.
Home Secretary Amber Rudd had previously said that police were making "good progress" in the fast-moving investigation and urged "everybody to continue to be vigilant but not alarmed".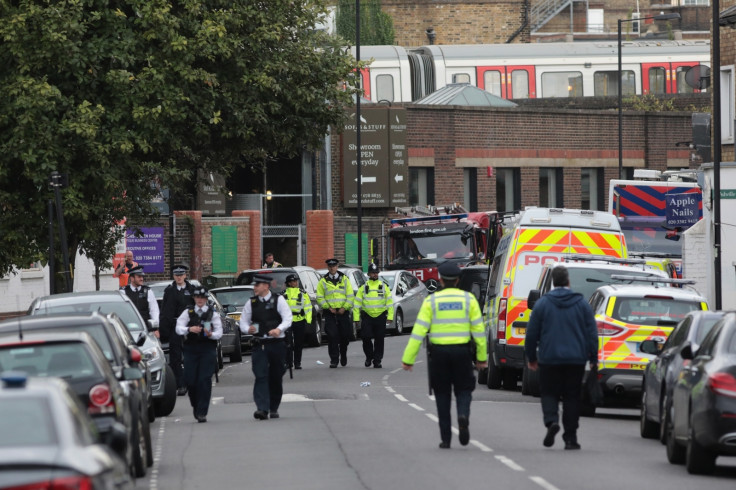 Commander Dean Haydon, head of the Met Counter Terrorism Command, said: "This continues to be a fast-moving investigation. A significant amount of activity has taken place since the attack on Friday.
"We now have three men in custody and searches are continuing at four addresses. Detectives are carrying out extensive inquiries to determine the full facts behind the attack.
"We anticipate that the searches will take some days to complete and may cause further disruption. However it is important that we continue with these searches and I'd like to thank all those affected for their support, patience and cooperation."