Britain has raised its security threat level from "severe" to "critical" after the Manchester Arena terror attack. As a result, Home Secretary Amber Rudd confirmed that the government has triggered Operation Temperer, a security measure allowing military personnel to be deployed at key sites. Rudd said people can expect to see soldiers helping law enforcement at sensitive security points like railway stations, government buildings and other destinations or events with big crowds.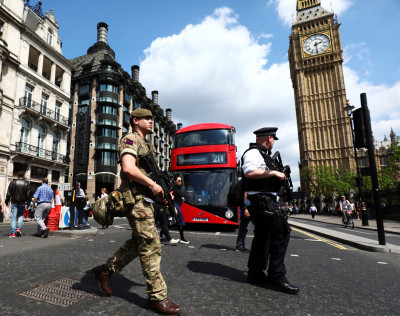 London Mayor Sadiq Khan said the measures were taken to keep Londoners and visitors safe and that there was no reason to be alarmed.
Rudd said up to 3,800 soldiers could be deployed on Britain's streets, taking on guard duties to free up police to focus on patrols and investigation. An initial deployment of 984 had been ordered, first of all in London and then elsewhere. Soldiers have been seen at the Houses of Parliament, Prime Minister Theresa May's Downing Street residence and at London police headquarters at New Scotland Yard.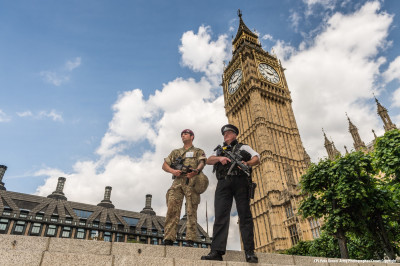 The Changing of the Guard ceremony at Buckingham Palace, a draw for tourists, was cancelled on Wednesday (24 May) because it requires support from police officers, which authorities decided was not a good use of police resources given the threat level.
Chelsea football club said it had cancelled a victory parade that had been scheduled to take place in London on Sunday to celebrate its Premier League title. Several high-profile sporting events are coming up in Britain, including the FA Cup final at London's Wembley Stadium, the rugby final at Twickenham on Saturday and the Uefa Champions League final at Cardiff's Millennium Stadium on 3 June.
There is also the general election scheduled for 8 June. All campaigning was suspended after the attack, but Ukip said it would resume on Thursday.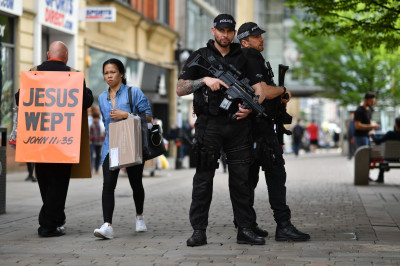 Rudd said the bomber, identified as British-born ethnic Libyan Salman Abedi, "likely" did not act alone when he killed 22 people and wounded dozens at an Ariana Grande concert in Manchester. She said he had been known to security forces "up to a point."