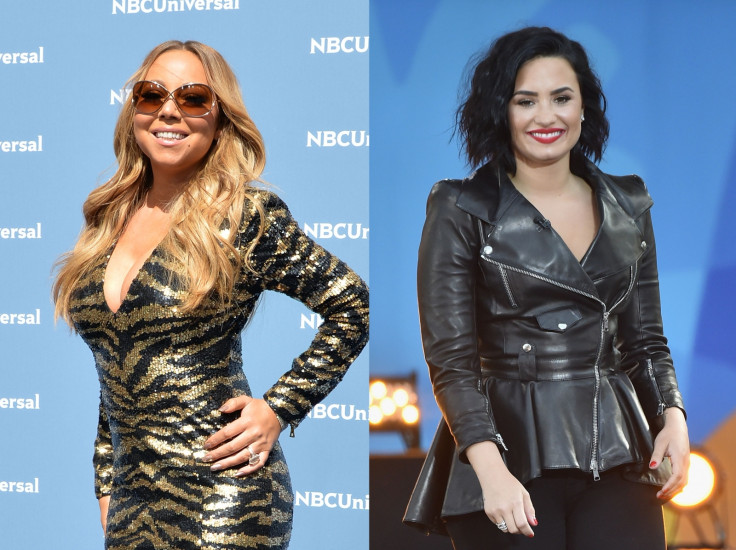 In the early 2000s, Mariah Carey and Jennifer Lopez were embroiled in a nasty war of words and quite recently, Demi Lovato's comments on a fan-posted meme might have raked in those old memories. In an attempt to defend fellow singer Ariana Grande in the meme, Lovato mentioned the previous episode of Carey dissing Lopez, and began a fresh saga of feuding on social media.
The drama began on the note of a fan-made poster that compared Carey with the 22-year-old Grande along with a cheeky caption, "When you order it online vs. when it arrives." The Instagram post probably suggested that the Dangerous Woman hitmaker seemingly does not live up to Carey's musical skills.
Reacting to the silly meme pitting Carey against Grande, Lovato shot back saying "you got it the wrong way around honey". Such a jab against the We Belong Together singer clearly did not go down well with fans of Carey on the picture sharing site, as they next targeted the Stone Cold hitmaker for her remarks.
Demi's further attempts at clarifying herself only added fuel to the feud as she reportedly made a sceptical remark recalling the infamous fight between Carey and Lopez. "Mariah is a legend and is so talented but constantly disses people. It's nasty the way she treats Jennifer [Lopez]. Ari did nothing wrong."
In her comment, the Disney alum was alluding to the early 2000 controversy when 46-year-old Carey had said, "I don't know her," when asked about fellow singer Lopez. However, this isn't the first time that Lovato has sided with the Ain't Your Mama hitmaker.
Earlier this month, she reportedly supported Lopez in a comment, "This is why I posted what I did. Jen keeps it classy but I'm not afraid to say s**t."
Having stepped between the two immensely popular songstress' long-standing feud, Lovato might have called upon herself the fury of the social media, as fans attacked her on Instagram.