Max Holloway reveals when he knew Jose Aldo didn't want to fight at UFC 212
Max Holloway comprehensively defeated Jose Aldo via TKO in the third round.
Undisputed featherweight champion Max Holloway believes Jose Aldo's lack of retaliation at his taunts convinced him that their UFC 212 fight was going to end soon.
Holloway became just the second person to finish Aldo after winning via TKO in the third round to unify the featherweight titles.
Despite a slow start in the first round where he was feeling out the Brazilian, "Blessed" became more confident in the second round before finishing Aldo off via ground and pound in the third after knocking him down.
"When I was putting my hand out and stuff, every time I'd put it, he would shut it down," Holloway told The MMA Hour. "He would throw something, he would do something reactive."
"Every time in the beginning rounds when I feinted at him, he was jumping back. I [saw these] big motions from him and he was countering super fast at certain things I was doing."
However, after the first round, Aldo began to tire in the second, and in what was one of the more notable moments of the fight, the Hawaiian started to taunt him before slapping him.
"I told myself, he's not firing," the 25-year-old added. "It's time to taunt. Let's taunt. Let's see if he cracks me. I taunted him — I put my hands up for a couple of seconds. And he didn't do nothing."
"I was like OK, I'm gonna do it again. And he did nothing. I was like man, this guy don't want to fight."
Holloway claims tiring Aldo out was all part of the game plan as he spoke of a new generation of fighters ready to deal with the old generation.
"I already knew our game plan was gonna work," he explained. "There's enough tape. Aldo, he's one of the greatest ever, but it's just time for a new era."
"It's time for the new wave of guys, us young guys are coming up and we're proving it. We're showing to the world that we're here to stay, we're taking forever. MMA is forever evolving. You either evolve with the sport or you get left behind. I'm trying to lead the pack. I'm trying to sprint."
Holloway's first title defence is not decided but it is expected to be against either Frankie Edgar or Cub Swanson.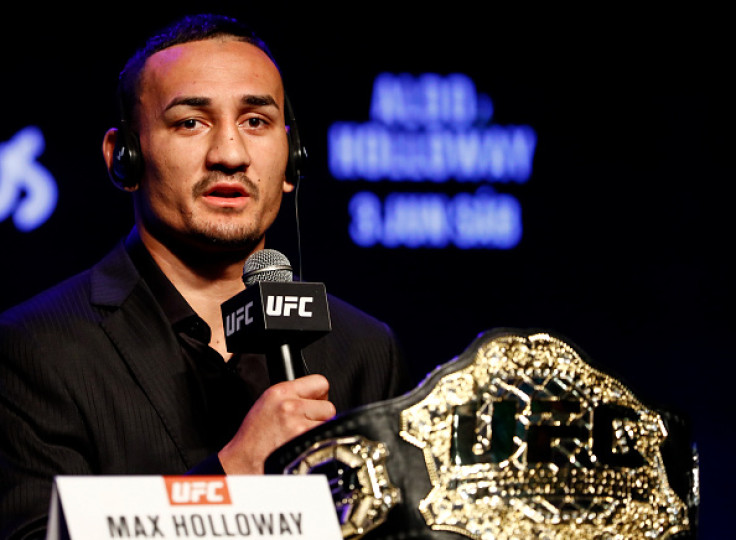 © Copyright IBTimes 2023. All rights reserved.