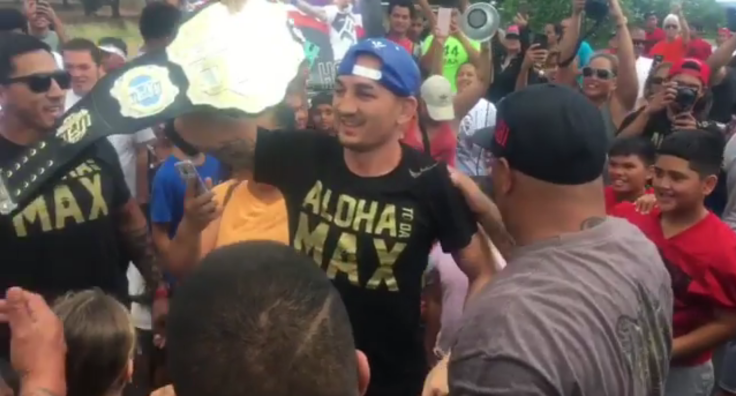 Max Holloway's victory over Jose Aldo at UFC 212 was not only the biggest win of his career, but also a victory for his home state of Hawaii.
"Blessed" became only the second person in UFC history after Conor McGregor to finish Aldo following his win over the Brazilian to become the new undisputed featherweight champion.
Holloway started slowly before dominating Aldo in the third round, knocking him down and subsequently ground and pounding him for the TKO victory.
Following the win, Holloway, only the second Hawaiian champion after the legendary BJ Penn, demanded that the UFC come to Hawaii next in what would ideally be the location of his first title defence.
"I've been telling you guys this is the 'Blessed' era," Holloway said in his post-fight interview. "Dana White, where's my 50K? I want my check. And I see you guys in Hawaii. UFC Hawaii. Make it happen baby."
And after his return to Hawaii this week, there is no question that the arenas would be jam-packed, given that a swarm of fans welcomed him back home.
The reception first began at the Honolulu airport before fans welcomed both Holloway and fellow victorious Hawaiian Yancy Medeiros in their hometown of Waianae.
"I was like, 'Don't cry, Max. You're a fighter. Don't cry.' But I'm joking," Holloway said, as quoted on KITV. "Just overwhelmed, you know. We had something big inside there when we came off the plane. I was tripping how big that was."
"They were like, 'This is nothing. The (University of Hawaii) football players is out there.' I was tripping out. It's surreal. You can't put it in words. You got to be here to witness. This is one of those things you can't put it on these cameras. You got to be here to witness and feel the energy."