Meghan Markle accused of staging 'NuCalm' photos to promote wellness brand
The Duchess of Sussex wore the NuCalm Biosignal Processing Disc on a day out in California without Prince Harry.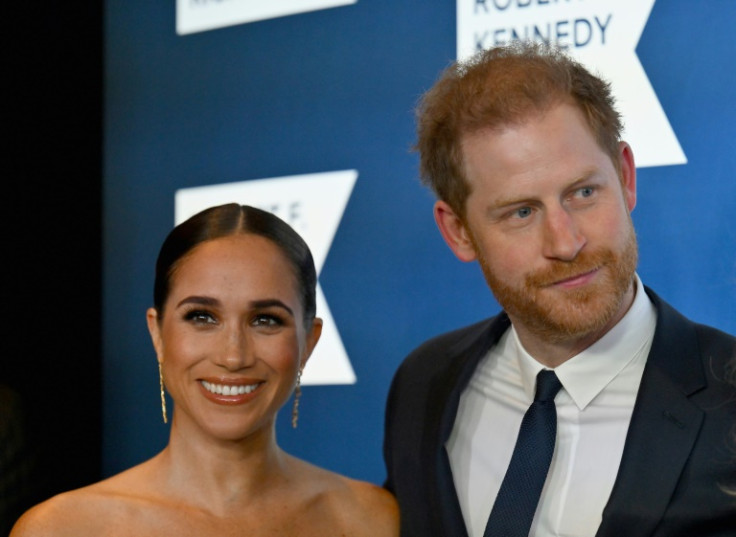 Meghan Markle stepped out wearing a NuCalm anti-stress patch last week raised suspicions that she is promoting the wellness brand. The sighting also comes amid claims that she is restarting her lifestyle blog "The Tig."
The Duchess of Sussex bundled up in a coat and shawl when she stepped out in Montecito with her bodyguard last week Thursday. She wore about $10,000 worth of designer wear. But it was the blue disc on her left wrist that caught the public's attention. The patch was later identified as the NuCalm Biosignal Processing Disc.
According to the product definition on its website, the disc "activates the parasympathetic nervous system" to help users have a "rapid return to a functional state (motor skills, attention, and full cognition) with no lingering effects or mental lethargy."
Claims were made that Meghan Markle used it because she was stressed out. Although, an unnamed source said that it "has nothing necessarily to do with stress."
However, brand and culture expert Nick Ede called the placement of the disc a smart move for the former working royal amid speculations about the relaunch of "The Tig." Meghan Markle closed the website ahead of her marriage to Prince Harry in May 2018.
He told the Daily Mail, "Meghan's strategic placement of a stress pack from a relatively new start-up company who reposted the image of her in their own social media is a clear message that she is looking to build her lifestyle brand and create a platform for her followers to benefit from her experiences and the products that help her."
He added, "The image was a clear message to say she's stressed but she's using a patch to help her. Her brand is very strong so I think that this is a good way to go, with partnerships."
Soon after pictures emerged of the former "Suits" star wearing the disc, NuCalm reposted her photo on their Instagram Story to announce a free trial on the product. The patch retails for $80 per 20-pack.
"Yes, that's the nucalm bio-signaling disc, a tool to get most clinical benefit from your NuCalm subscription," reads the note accompanying the duchess' photo. The brand's confirmation that Meghan Markle uses the Biosignal Processing Disc led many to claim that she staged the photos to promote the wellness brand.
However, NuCalm is denying any "business relationship" with the 42-year-old, telling Page Six in a statement that the company has "never sponsored or paid any product endorsements despite working with over 56 professional sports teams and hundreds of celebrities."
Instead, the company calls the Duchess of Sussex a "loyal user of (their) technology. The statement continues, "We never share who is using NuCalm, but if an athlete or celebrity wants to share, that is their prerogative." NuCalm also clarified that it has been around since 2009, contradicting Ede's definition that it is "new start-up company."
The FDA-approved NuCalm Biosignal Processing Disc is loved by athletes, including players of the Chicago Blackhawks ice hockey team, who use them to recover after a match. Motivational speaker Tony Robbins is reportedly also another user.
Jim Poole, chief executive of NuCalm maker Solace Lifesciences, likened the disc to a tuning fork that uses "vibration frequency and resonance to deliver a calming signal to the brain" Each patch provides enough energy for two hours and does not releases chemicals, only frequencies and biosignals to the brain.
He said, "We understood that we need to saturate the brain with GABA A and GABA B, the body's primary inhibitory neurotransmitters – the opposite of adrenaline – to put the brakes on adrenaline. It took Dr. (Blake) Holloway four years working with German physicists and Chinese medicine experts to locate the frequencies of these amino acids and what these discs now hold is the recipe."
Meghan Markle was seen wearing the NuCalm Biosignal Processing Disc while Prince Harry was in Japan and Singapore for work. She was left in California with their children Prince Archie, 4, and Princess Lilibet, 2.
© Copyright IBTimes 2023. All rights reserved.