Microsoft's latest mobile operating system, Windows Phone 8.1, is expected to be released in late April or early May, featuring the highly-anticipated Microsoft version of digital assistant named 'Cortana' alongside a flurry of interesting features.
As ArsTechnica reports, rumours were rife about Microsoft's plans to include a Siri-style digital assistant with its next Windows Phone update and name it after the AI character in the Halo video game series.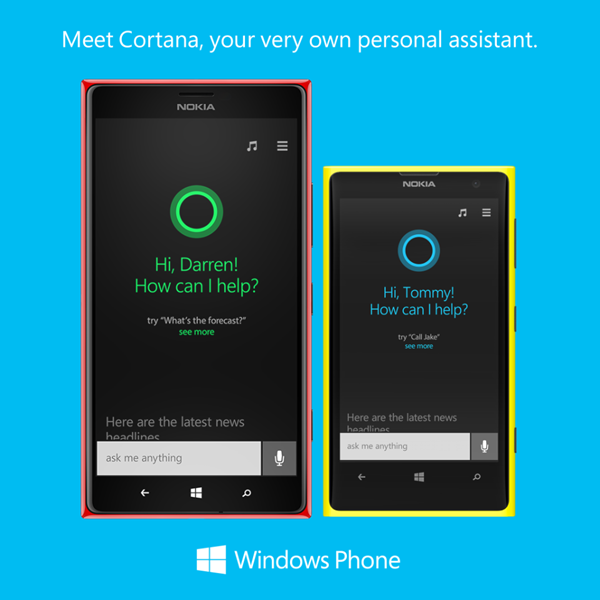 Cortana
The rumours have indeed turned out true, as Cortana makes its debut with Windows Phone 8.1 along with a new Action Center for customising notifications and phone settings, besides a handful of improvements to the lock screen.
The lock screen is said to be fully API-driven and programmed by apps. For instance, Cortana is powered by Bing Search, which allows users to interact with the assistant using text or speech.
Microsoft's Vice President, Joe Belfiore, earlier demonstrated the various tasks that can be performed using Cortana such as setting reminders, looking up contacts and setting geofenced tasks, besides converting temperature from Celsius to Kelvin.
Some of the other noteworthy features ported to Windows Phone 8.1 are listed below:
Action Center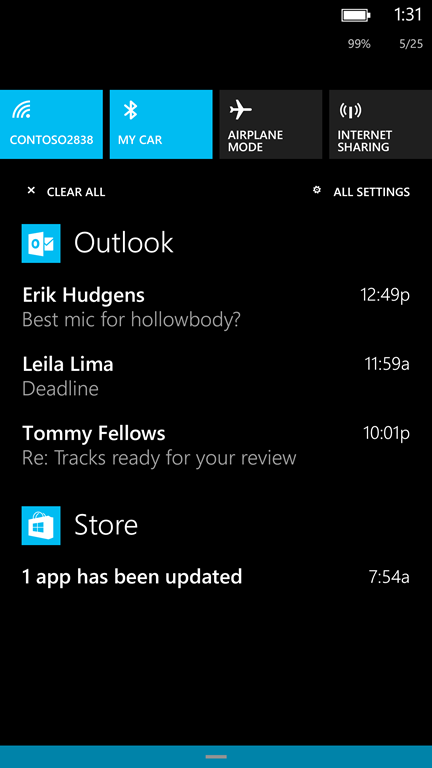 The new Action Center debuts the notification system for Windows mobile operating system with the release of Windows Phone 8.1. It acts as the root hub for all notifications and toggles for common tasks such as enabling or disabling Wi-Fi, airplane mode etc.
Interactive Lock Screen/Themes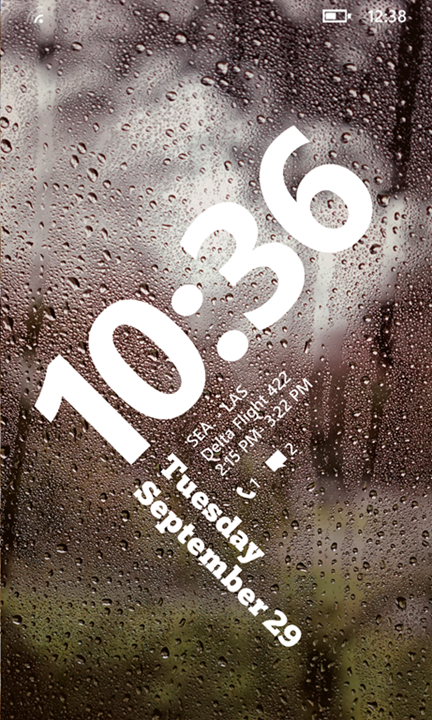 Windows Phone lock screen seems too simple with just a clock and the notifications limited to a maximum of four apps. However, the advent of Windows Phone 8.1 update will help overcome the limitations with several improvements added to the lock screen such as real-time interaction with multiple apps without the need to unlock screen.
The addition of new lock screen themes in the update makes Windows Phone much more appealing.
Enhanced Windows Phone Store
Windows Phone Store is now capable of providing personalised suggestions to users based on their surfing habits and favourite selections.
Internet Explorer 11
Windows Phone 8.1 brings the latest browser with Internet Explorer 11, which Microsoft claims will deliver enhanced performance, features and a host of bug-fixes over its previous build.
Wi-Fi Sense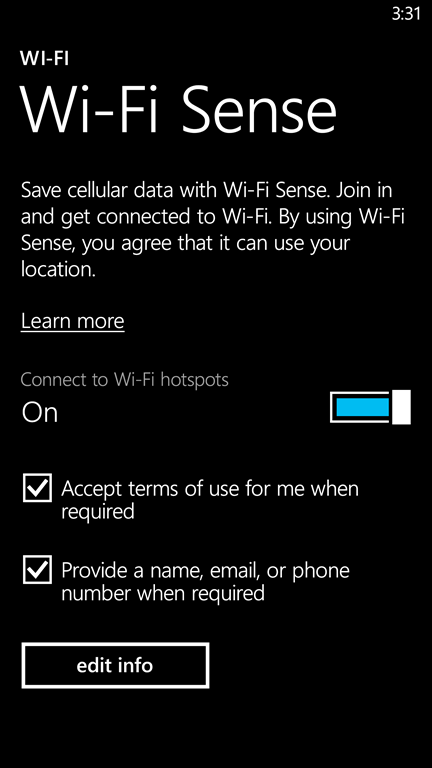 Wi-Fi Sense is a smart little feature that enables users to auto-connect to available public Wi-Fi hotspots as and when they are discovered.
This feature should actually help you cut down on data charges, while sparing you the hassle of connecting to a network manually.
Data Sense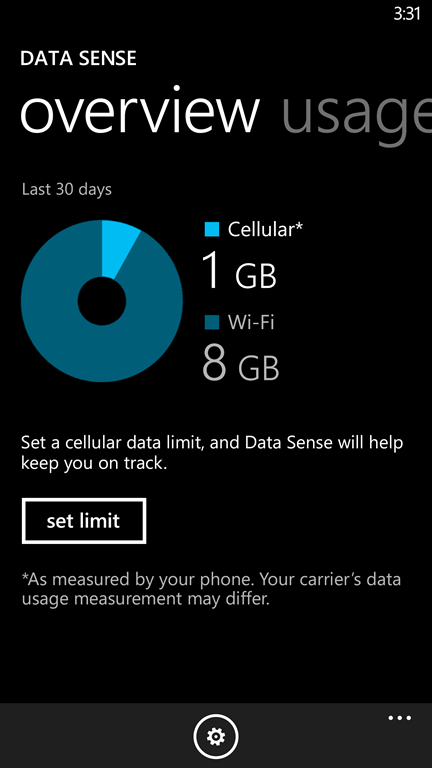 Data Sense automatically keeps track of your 3G data usage trends for every month, and provides useful tips on how to cut down your data charges by switching over to Wi-Fi, whenever a hotspot is available.
Windows Phone 8.1 also features a 'high savings' mode that by default compresses your images and data while using your phone's data service such as 3G.
Storage Sense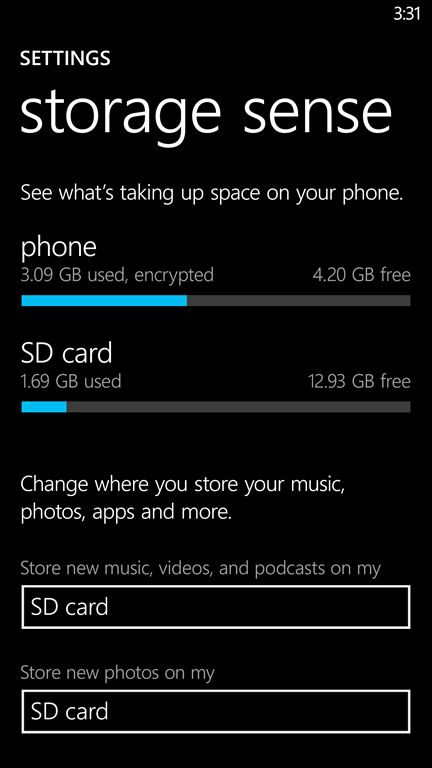 As its name implies, it monitors and provides feedback on storage space consumed by each individual app or user data. It will filter down and notify you about the app or data that consumes the most space.
In addition, it helps users to easily move content between the device's internal storage and SD card.
Battery Saver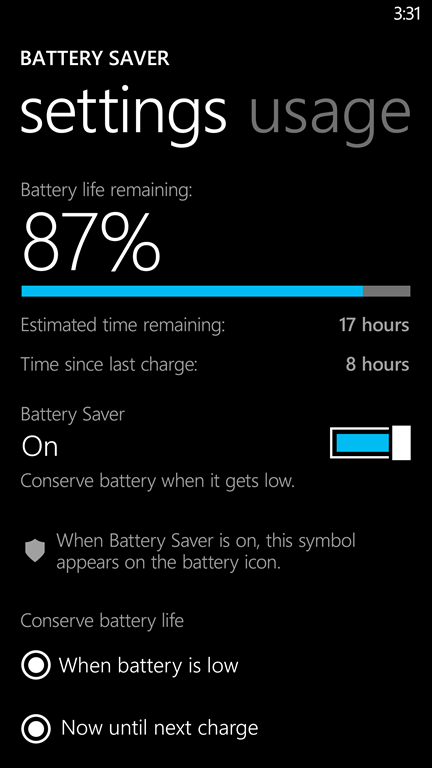 Along the lines of Sony's Battery STAMINA mode, Microsoft has introduced the Battery Saver feature in Windows Phone 8.1, which enables users to turn off unwanted background apps that are consuming the most battery charge. It monitors and aids users in making battery usage decisions, besides conserving battery in low battery mode or until next charge.
Check out Windows Phone in action in the demo video below: