Microsoft expected to unveil set of affordable Lumia series smartphones at MWC 2015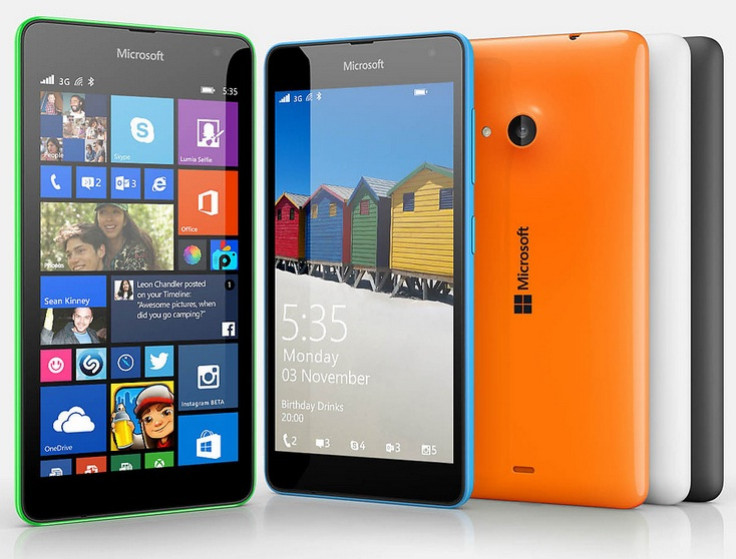 Microsoft will unveil a set of Lumia series devices at the Mobile World Congress next week in Barcelona.
According to statistics found by AdDuplex, a cross-promotion network aimed at Windows 8, Windows Phone app and games, Microsoft is likely to announce a number of mid-range and low-end devices which include:
Microsoft/Nokia RM-1031 with a 4in screen (480 x 800 pixels). The model number of the device matches that of Nokia XL, which is Nokia's Android smartphone.
Microsoft/Nokia RM-1062 (AT&T), 64, 65, 66, 67 will sport a large screen at 5.7in and resolution at 720 x 1280 pixels.
Microsoft/Nokia RM-1072, 73 (AT&T), 74, 75, 76, 77 will come with a 5in 720 x 1280 pixels screen.
Microsoft RM-1109, RM-1113 will have the same screen size and resolution as the RM-1072. This device could be the same as RM-1072 or, another variant of it.
Microsoft/Nokia RM-1099 will come with a 4in screen (480 x 800 pixels).
Apart from the screen size, AdDuplex does not have other hardware details about the aforementioned smartphones.
The Windows Phone devices from other manufacturers such as Samsung, HTC and LG are unlikely at the MWC event.
AdDuplex has also shared its 'Windows Phone Statistic report-February 2015', according to which Microsoft's budget smartphones such as Lumia 530/535 and Lumia 630/635 have shown some good sales growth.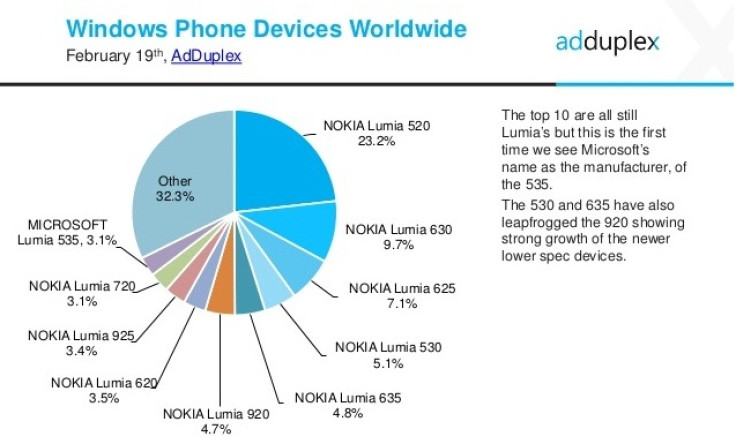 The market share of Windows Phone 8.1 devices is significantly higher, at 67.7% than previous Windows Phone versions.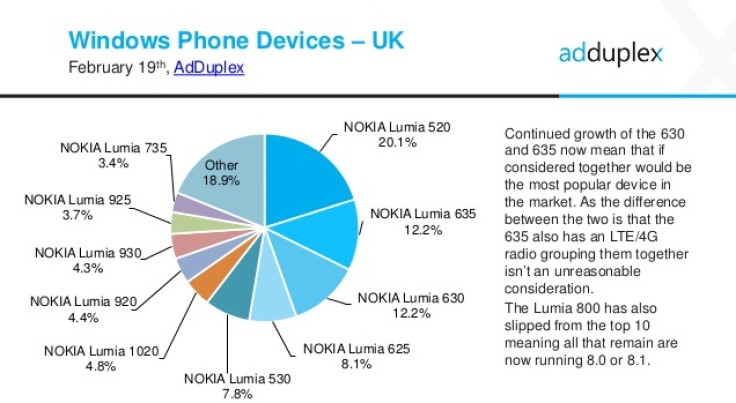 As for the region-wise share, the Lumia 635 has gained 4.9% growth in the past few months, whereas the Lumia 530 grew 1.6%. In the UK, Lumia 630 and 635 are considered to be the most popular devices. In emerging markets like India, the Lumia 535 has gained a market share growth of 5.9%, as opposed to 5% last month.
© Copyright IBTimes 2023. All rights reserved.