References to Microsoft's upcoming Lumia devices have appeared in a report by AdDuplex, a cross platform promotion network for Windows Phone and Windows Store apps and games empowering developers to promote their apps.
A Windows Phone Device Statistic for June 2015 report by AdDuplex contains a few details for Microsoft RM-1100, RM-1104 and RM-1105, found in their logs.
The RM-1100 sports Quad HD screen (1440 x 2560p), whereas other two devices RM-1104 and RM-1105 have 5.2in screen each with 1080p resolution.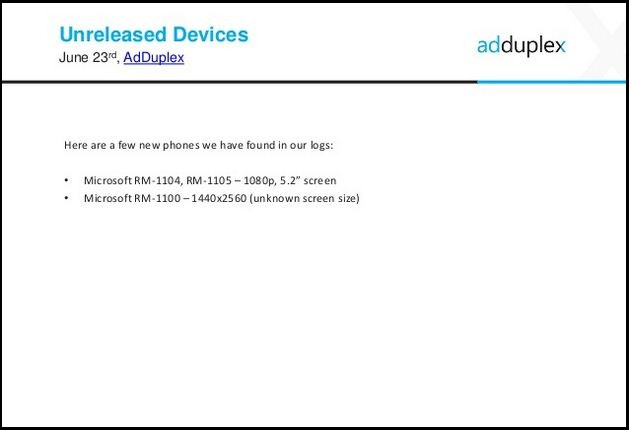 Microsoft has been speculated for a while now to be working on two high-end Quad HD Lumia devices internally known as Lumia Cityman featuring a 5.7in screen and 5.2in Lumia Talkman, expected sometime in the second half of this year.
Coming back to the AdDuplex report on Windows Phone devices suggests that Windows Phone 8.1 grabs 76.7% of the global market, with a 2.5% increase. The Windows Phone 8 is down by 2.4%, Windows Phone 7.1 by 0.4%, whereas the new OS, Windows 10 Mobile goes up by 0.2%.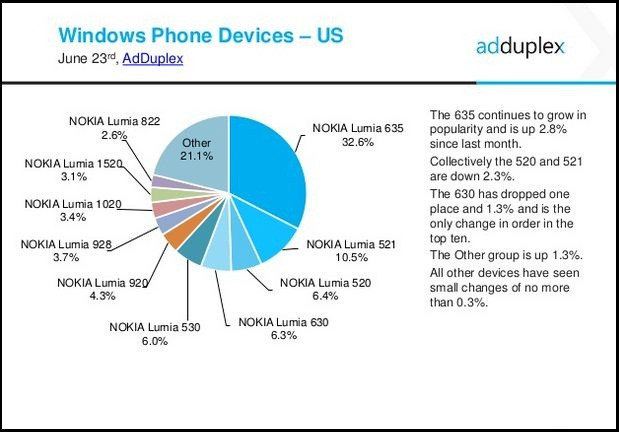 As for the Lumia phones in specific markets like the US, the Lumia 635 has the highest market share with its popularity continues to grow up by 2.8% since last month. The Lumia 520 as well Lumia 521 are down by 2.3%, whereas the Lumia 630 at 1.3%.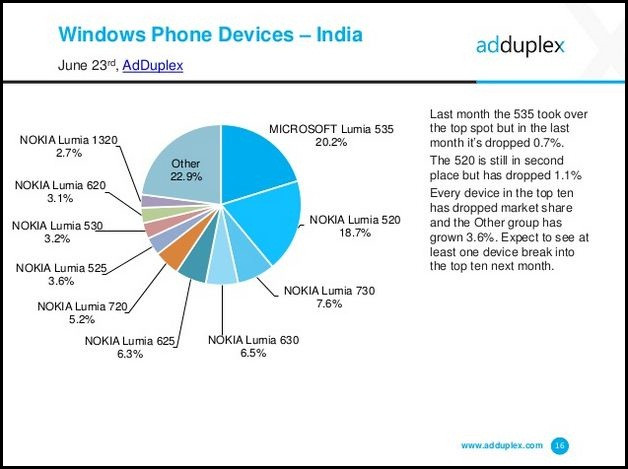 In emerging markets like India, the Lumia 535 appears to have taken over the top position, with a market share of 20.2%. At second position is the Lumia 520 with 18.7% market. The slide further suggests that Lumia smartphone in the top ten has dropped market share, but the segment for other smartphones has grown up by 3.6%.