YouTube has revealed the extent to which it relies on the video game industry for its success, revealing Minecraft in particular to be big business for the website.
In a list of the most searched for queries on YouTube (itself the second most-used search engine behind Google) shows Minecraft in second place, ahead of "movies", "frozen", "Drake" and "Beyonce". It isn't even a close contest.
Video game YouTube personality PewDiePie also appears on the list, behind the aforementioned search terms.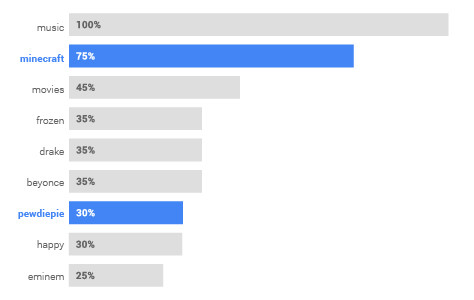 The information comes straight from YouTube owners Google, which opens its blog with the headline "Think Gaming Content Is Niche? Think Again."
"Gaming has woven its way into all areas of pop culture—sports, music, television, and more," it goes on to read. "Its appeal goes far beyond teenage boys (women are now the largest video game–playing demographic!). So it's no surprise that gaming content has taken off on YouTube."
A breakdown of demographics also reveals interesting news: 70% of users who like, favourite and comment on videos are male, but its women who spend more time watching video game content on the site.
Recent studies showed that the majority of video game players are now female, and this further suggests a trend bucking for the better.
Another graphic further proves the popularity of gaming, showing how often in October 2014 that a gaming video hit the top 10 trending videos on any given day.