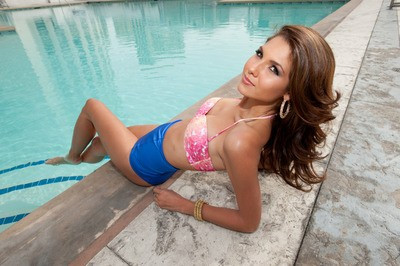 A total of 89 contestants from all over the world have arrived in Las Vegas to compete in the 61st Annual Miss Universe 2012 pageant, to be held on 19 December. The Miss Universe 2012 contestants will be judged across three categories: swimsuit, evening gown and interview, as they vie for the coveted title. And as part of the contest, the contestants took part in a swimwear photo shoot earlier this week.
All the 89 contestants posed for photos in swimwear by Kooey Australia, by the pool at Planet Hollywood Resort and Casino, starting their preparations for the Miss Universe 2012 pageant. According to the Miss Universe Organization, the contestants will spend the next few weeks touring, filming, rehearsing and making new friends before competing for the Miss Universe Diamond Nexus Labs Crown.
The Miss Universe 2012 pageant will be telecast live from Planet Hollywood on 19 December at 8 pm ET (2 am GMT) via NBC to approximately 190 countries. Miss Universe 2011, the Angolan beauty Leila Lopes, will crown her successor at the conclusion of the two-hour telecast. The organisers expect more than one billion viewers worldwide to watch the live event.
Meanwhile, the Miss Universe Organization has announced that Andy Cohen, host of Bravo's Watch What Happens Live, and Giuliana Rancic, co-anchor of E! News, will host the 2012 Miss Universe competition.
An official welcome ceremony for the 2012 Miss Universe pageant's contestants is scheduled to be held on 6 December, when this year's contestants will be formally introduced to the media. The contestants will also take part in a fashion show during the event. The ceremony marks the official start of the Miss Universe competition.
Start the slideshow to view some of the stunning photographs from swimwear photo shoot of contestants and the countries they represent...