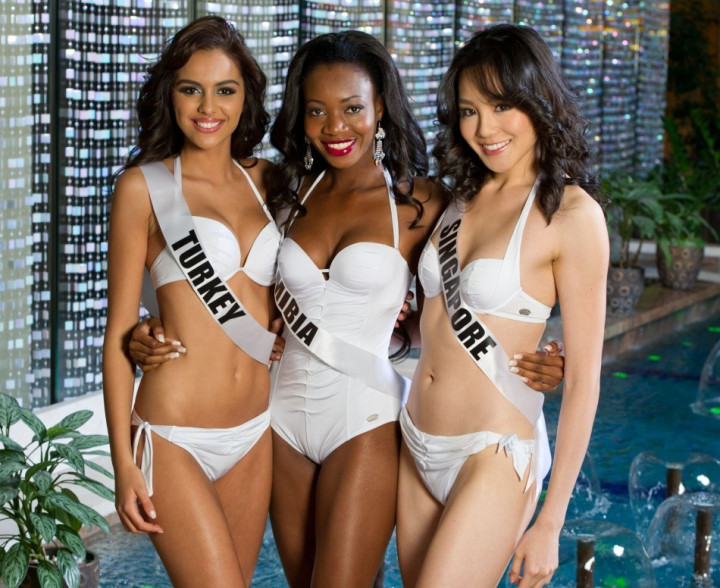 The spectacular Miss Universe 2013 competition kick-started with a controversy. Considered as one of the most controversial Miss Universe candidate, Miss Universe Ghana Hanniel Jamin had earlier complained of unfair treatment from the organisers.
According to Ghana Web, she had received threats that she would be stripped of her title if she does not keep her mouth shut. She had also posted in Facebook that she had been threatened to be replaced with someone else in the competition.
"Please the miss universe organisation worldwide, pageantology, missosology, russian embassy, russian and ghanaian immigration, the media please take note," she stated pleading with the media to act.
Jamin also posted another message on her official Facebook account the next day directing it to one of the runners up whom she thought would replace her.
"No matter how hard 'you' the miss universe ghana 2013 beauty pageant runner up tries to take my place, you will never succeed, you will always remain my runner up besides you can never steal my position because i will make sure you and the people manipulating things are jailed," Jamin wrote on 17 October.
However, she finally made it to Moscow and apologised for the confusion.
Soon after that, Miss Philippines, Ariella Arida landed herself in trouble. She was asked by show host Karen Davila to respond to comments about her communication skills in English.
"Latinas cannot even speak a sentence, right? I mean, a complete sentence in English... You know, I think, it's the Filipinos who are very critical about this," she said.
This created quite a furore and there was intense backlash against her. Following that, she apologised for her offensive statement. Arida also took to her Twitter account to respond to it: "OM sorry. I didn't mean to offend anyone from my last interview. I hope you guys can understand what I'm trying to say."
Following that, there was a furore that the results had been leaked by a judge and that Miss Britain, Amy Willerton would be crowned the winner. Though it has not yet been verified, the final score sheet suggested that Miss Britain leads the way. The top five were Great Britain, Spain, Poland, Ukraine and Venezuela.
According to Miss Universe.com, the judges for semi-finals are: broadcast journalist David Perozzi, Elena Semikina who is the Miss Universe Canada 2010, E! News Alicia Quarles, modelling manager Corrine Nicolas, PR and marketing manager Gabriel Rivera-Barraza, businesswoman Irina Agalarova, and Telemundo's Jose Sariego.
The grand finale is on 9 November where Miss universe 2012,Olivia Culpo of USA will crown her successor.