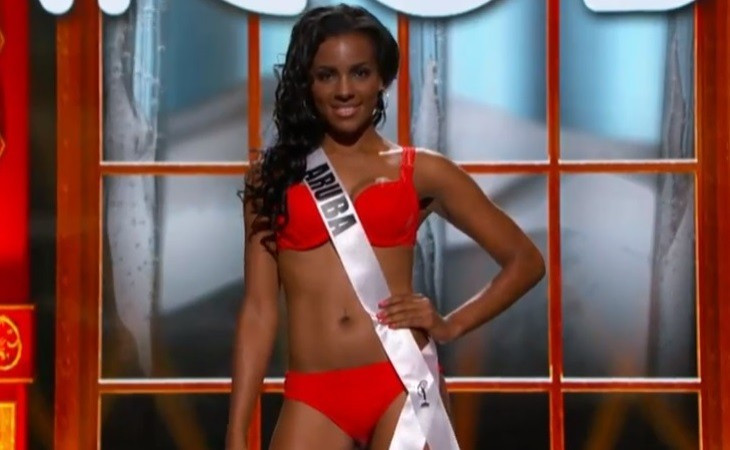 Someone had to do it: here is every single Miss Universe 2013 contestant in the swimwear contest.
The hopefuls appear here in country alphabetical order, not according to our opinion because beauty is always in the eye of the beholder. In this case, beauty comes dressed in a two-piece swimming costume.
Click here for our unofficial top 10 swimwear contestants, with Miss Philippines topping our list.
Needless to say, the 'sextremists' of radical group Femen weren't invited to the event in Moscow.
Aruba:
Australia:
Austria:
Azerbaijan:
Bahamas:
Belgium:
Bolivia:
Botswana:
Brazil:
British Virgin Islands:
Bulgaria:
Canada:
Chile:
China:
Colombia:
Costa Rica:
Croatia:
Curacao:
Czech Republic:
Denmark:
Dominican Republic:
Ecuador:
El Salvador:
Ethiopia:
Estonia:
Finland:
France:
Gabon:
Germany:
Ghana:
Great Britain:
Greece:
Guam:
Guatemala:
Guyana:
Haiti:
Honduras:
Hungary:
India:
Indonesia:
Israel:
Italy:
Jamacia:
Japan:
Kazakhstan:
Lebanon:
Malaysia:
Mauritius:
Mexico:
Myanmar:
Nambia:
Netherlands:
Norway:
New Zealand:
Nigeria:
Nicaragua:
Panama:
Paraguay:
Peru:
Philippines:
Poland:
Puerto Rico:
Romania:
Russia:
Serbia:
Singapore:
Slovak Republic:
Slovenia:
South Africa:
Spain:
Sri Lanka:
Sweden:
Switzerland:
Tanzania:
Thailand:
Trinidad and Tobago:
Turkey:
Turks and Caicos:
Ukraine:
USA:
Venezuala:
Vietnam: