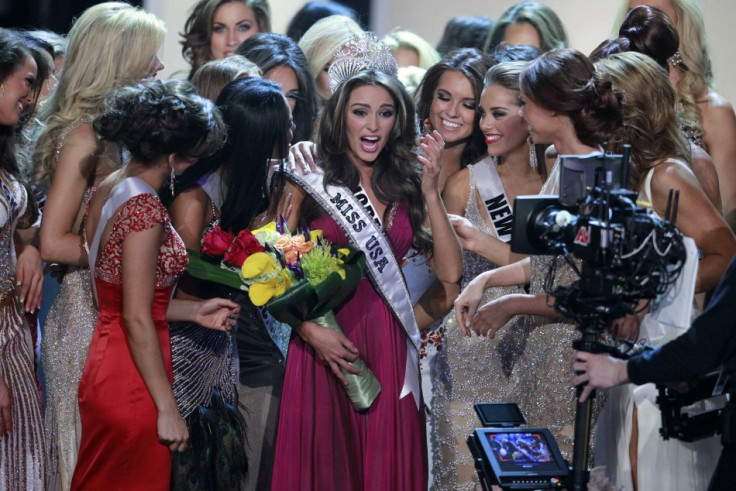 Miss USA 2012 winner Olivia Culpa may find more skeptics eying her crown, after another contestant claimed the pageant was rigged. Miss Rhode Island Olivia Culpa was crowned Miss USA 2012 during the 61st Annual Miss USA pageant held in Las Vegas on Sunday, 3 June.
However, within a fortnight of ex-Miss Pennsylvania USA Sheena Monnin's claim that the Miss USA Pageant was fixed, a second fellow contestant has backed Monnin, saying that the pageant was indeed a fraud.
Although she refused to disclose her identity, the second contestant has revealed she too heard from Miss Florida, Karina Brez, who was able to point out the eventual top five contestants; the claim backs up what Monnin earlier said.
"I saw Florida backstage and she was very, very flustered and upset...at that point she was able to reveal to me at least four of the five names who went on to be the top girls. She couldn't remember the fifth because she was so upset. Several of the girls then started hearing through the grapevine about a list; a lot of people were upset," she told FOXNews.com.
Sheena Monnin, who resigned from her title in protest of her assertions that the Miss USA pageant was a fraud, also made revelations on her Facebook account about the same incident.
"I witnessed another contestant who said she saw the list of the Top 5 BEFORE THE SHOW EVER STARTED proceed to call out in order who the Top 5 were before they were announced on stage. Apparently the morning of June 3rd she saw a folder lying open to a page that said 'FINAL SHOW Telecast, June 3, 2012′ and she saw the places for Top 5 already filled in. Thinking she was just seeing a rehearsal fake top 5 from a previous day she walked away, then realized that it had without a doubt been labeled as the Final Show Telecast, June 3rd," Monnin posted on Facebook on 5 June.
However, the Miss Universe Organisation said the contestant Monnin privately sourced as her reference has vehemently refuted her claim and indicated they had proof Monnin resigned for other reasons.