The wait is over for Miss World 2017. In the next few hours, the 67th edition of the beauty pageant will announce the lucky contestant who will be crowned by her predecessor – Miss Puerto Rico Stephanie Del Vallethe.
The glittery event will be held at Sanya City Arena, China, on 18 November. As many as 118 contestants from around the globe are vying to win the diamond-encrusted crown and a huge prize money along with a contract with the pageant organisation for a year.
Where to watch live stream:
The event will be broadcast live on London Live from 12 noon. The network is available on Freeview 8, Sky 117, and Virgin 159. You can also watch it online via live stream on the pageant's official YouTube page.
This year, the contesting rules have undergone a major tweak with the introduction of a new Head to Head challenge which was opened on 21 October. Under the new rules, all contestants were divided into 20 groups of six countries each and given two minutes to present themselves.
Based on their answers, the public voted for their favourite contestants through free online voting. At the end of the qualifying competition, 40 lucky girls will be selected. Twenty winners of the Head to Head challenge will enter the final 40; five fast-track event winners and 15 judges' selections will also make it to the final 40.
The contestants' names will be announced during the main event at which the judges will shortlist 25 contestants who will later get shrunk to eight and as the evening proceeds, the world will get its final three. Miss South Africa, Miss Vietnam, Miss Philippines and Miss Indonesia have already been selected for the final 40 from the fast-track event.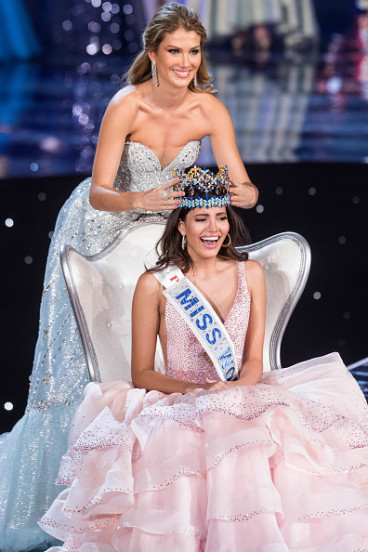 Stephanie Hill is representing England in the beauty pageant. A true definition of beauty with brain, the 22-year-old radiotherapy, and oncology student aspires to work in cancer research and be involved in worldwide clinical Trials. It will be interesting to see whether she will be able to bring the Miss World crown home.
Here are the broadcast details for television channels across the world:
Angola ZAP
Anguilla Direct TV
Antigua & Barbuda Direct TV
Argentina Direct TV
Aruba Direct TV
Bahamas Direct TV
Barbados Direct TV
Belarus Second National TV Channel
Bermuda Direct TV
Bolivia Red Uno de Bolivia & Direct TV
British Virgin Islands Direct TV
Cambodia Hang Meaas HDTV Free TV
Cayman Islands Direct TV
Chile Direct TV
China PR Sanya TV & Travel Channel
Colombia Direct TV
Cook Islands Elijah Communications
Curacao Direct TV
Dominica Direct TV
Domincan Republic Direct TV
Ecuador RTS & Direct TV
Egypt LBC
El Salvador Channel 2
England London Live
Fiji FBS
France Paris Premier
Georgia Tv Pirveli
Ghana GhOne TV
Gibraltar GBC
Grenada Direct TV
Guadeloupe Direct TV
Haiti Direct TV
Honduras Compania Televisora Hondurena
India Romedy Now
Indonesia RCTI
Iran LBC
Iraq LBC
Jamaica Direct TV
Kenya Royal Media Services
Lebanon
Martinique Direct TV
Mauritius MBC
Mexico MVS - Natinal TV
Monaco Paris Premier
Mongolia MNC TV
Montserrat Direct TV
Mozambique ZAP
Myanmar Channel 7
Netherlands Direc TV
Nicaragua Canal 2
Norway MTG TV
Oman LBC
Panama MedcomPanama
Paraguay Direct TV
Peru Willax TV & Direct TV
Philippines GMA 7
Puerto Rico Direct TV
St Eustatius Direct TV
St Kitts & Nevis Direct TV
St Lucia Direct TV
St Martin Direct TV
St Vincent & the Grenadines Direct TV
Saba Direct TV
Samoa TV3
Saudi Arabia LBC
Seychelles SBC
Singapore Mediacorp
Syria LBC
Thailand Channel 3
Trinidad & Tobago Direct TV
Turks & Caicos Direct TV
Uruguay Direct TV
US Virgin Islands Direct TV
Venezuela Venevision & Direct TV
Yemen LBC