Despite Amir Khan repeatedly denying rumours of cheating – he even said that the accusers were "ruining my image and my name" – the allegations against him are far from being over.
On 29 January, the Bolton-born boxer along with Faryal Makhdoom was headed to the US. While Khan went on to resume training for his comeback fight in San Francisco, his pregnant wife was off to New York. But now, a new report claims that Khan was already involved in a conversation with another model by 1 February.
The I'm A Celebrity star had allegedly befriended a New York-based model, Dasha Abdelgany, over social media.
Following this, Khan even allegedly sent out an invitation, according to Mirror Online, asking the model to come visit him in California while he was "alone for a week".
"I'm in SF... here for four weeks. But alone for a week," the 31-year-old athlete allegedly texted before following up with: "Will be nice to connect with U."
According to the 27-year-old model, the alleged flirty exchange began after she and Khan got into a bit of an argument over one of his pictures about "halal Christmas dinner".
While Abdelgany, who is also a Muslim, says she advised the boxer against the picture, her message allegedly led to the start of a conversation with the married Khan enquiring more about her and showering her with compliments.
"He then began asking multiple questions about my background, location, age, work," the model was quoted as saying. She even alleged that Khan once wrote to her, "Those lips in ur pic. Wow," and added how she received an unexpected call from him.
"He said 'I just wanted to hear your beautiful sweet voice, I missed that voice'" claims Dasha, "I didn't expect the call and I was a bit lost... I just replied 'and you have a lovely ­accent'." The model then informed about her partner but Khan apparently "didn't take the hint".
The boxer allegedly replied: "So you like my accent then, I'm going to speak to you all night long."
If the model's words are to be believed, Khan allegedly badgered her to visit him while he was training in San Francisco and while pregnant 26-year-old Makhdoom was away.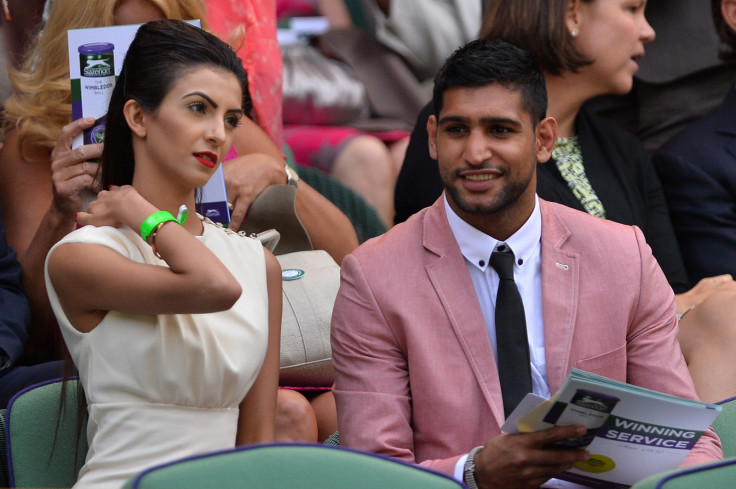 "I live in New York which is a five-hour flight from San Francisco. He wanted me to fly to see him before his wife arrived," she said. "He said he was there for four weeks to train for his upcoming comeback fight. But he said he was only gonna be alone for a week and I needed to get there asap."
As it turns out, the idea reportedly didn't go down well with Dasha, who ended up blocking his number.
"I just blocked all his numbers. After I looked him up on Google I found out how many other women he already cheated on his wife with. I genuinely feel bad for her position." the model was quoted as saying.
While the boxer is yet to respond to the latest allegations, he has previously refuted cheating claims made by other women. Explaining that he is "no cheat", Khan had said that he finds all of this "sickening".
"Why would people do that? Why would they say these things? Money. I think it's really sad. They're ruining my image and my name," he told the Daily Star.