Mother of detained Briton in Cambodia defends son over 'pornographic dancing' charges
Another mother claims the group was forced to sign court documents in the Khmer language without a translator.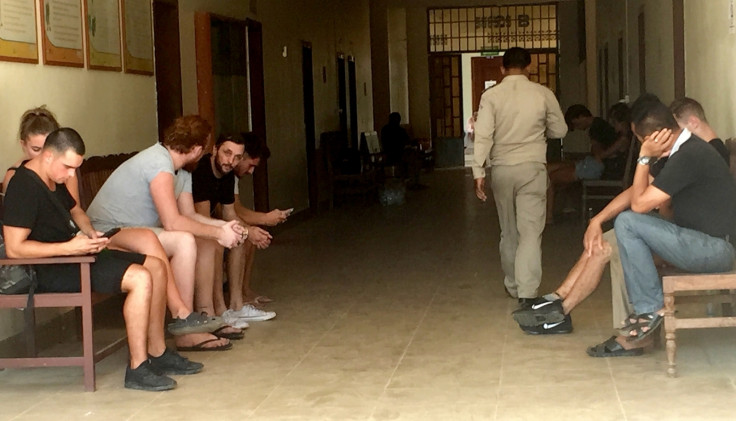 The mother of one of the five British men arrested in Cambodia over "pornographic dancing" defended her son after speaking to him on the phone. The five Britons are among 10 people arrested Thursday (25 January) at a rented villa in Siem Reap.
The mother of one of the men said she is "in pieces" after speaking to him. The group was charged with producing pornographic pictures of scantily clad couples in racy positions and posting them online.
"We are just in pieces, and the frustrating part is that we don't really know what to do," the mother told MailOnline. "My son had been working so wanted to go out and spend his money like any other young man. He had become good friends with the group he was with, as you do when you are travelling together."
The woman, who asked to remain unnamed, claimed her son was innocent. "He was [at] the pool doing nothing wrong, just having a good time and a drink. That's what he said when I managed to speak to him on the phone.
"The embassy has been in touch and we are hearing more from them tomorrow. It is terrible to think of him being stuck out there and completely innocent."
Another mother, of unknown nationality, claimed the men were forced to sign court documents in the Khmer language without a translator. She told MailOnline that she lost contact with her son by Sunday afternoon and was trying to connect with the parents of others in the group for any information.
"They are scared out of their brains. They just did what they were told in the hope they (Khmer authorities) would say, 'Oh, well we'll get you all to sign these papers and nothing will happen.'"
She claimed the group signed papers without knowing what they were. The woman said her son told her a woman was pressured by Khmer authorities to confess she was in one of the photos depicting a young woman bending over and exposing her chest. The arrested woman repeatedly denied being in the photo.
The group of eight men and two women include five Britons. They were identified as Vincent Harley Robert Hook, 35; Daniel Richard Leeming Jones, 30; Thomas Alexander Jeffries, 22; Billy Stevens, 21; and Paul Francis Harris, 32.
Also arrested were Job Robertus van der Wel, 22 from the Netherlands; Jessica Drolet, 25, and Eden Koazoleas, 19 from Canada; David Nikolaus Aleksandr Ballovarre, 22 from Norway; and Paul Martin Brasch, 32 from New Zealand.
The group could face up to a year in jail for a "breach of Cambodian traditions".