Motorola is one of the venerable old names of the mobile phone world - if such a thing exists in an industry still in its infancy.
Moto X Style Specs
5.7in display (2560 x 1440)
Snapdragon 808 chipset
3GB RAM
Android 5.1.1
21MP rear camera'
Turbo Charge battery charging
Price: £359
Release date: September
In recent years however it fell by the wayside as companies like Samsung and Apple dominated. It's purchase by Google seemed to be a match made in heaven, but it wasn't. And last year it was purchased by Lenovo, the world's biggest PC maker and in China a big player in the smartphone market.
Over the last 24 months the company has sought to reinvent itself with its Moto range of smartphones, bringing a more focused look to its portfolio and now it has launched the third generation of these smartphones, with the Moto X Style the flagship model promising the performance and quality of an iPhone 6 or Galaxy S6 but at a price £200 lower.
While it may say it is on a level playing field with the biggest name phones on the market, costing £359 it could easily be confused with a mid-range smartphone or one of the emerging budget flagship devices such as the OnePlus 2 which costs even less and still promises cutting edge hardware.
So where does the Moto X Style sit in the smartphone pantheon?
Moto X Style: Design
In terms of design, the Moto X Style borrows a lot from the Nexus 6 which Motorola built in conjunction with Google last year, but once you pick it up, you realise this is a much more polished and well designed smartphone.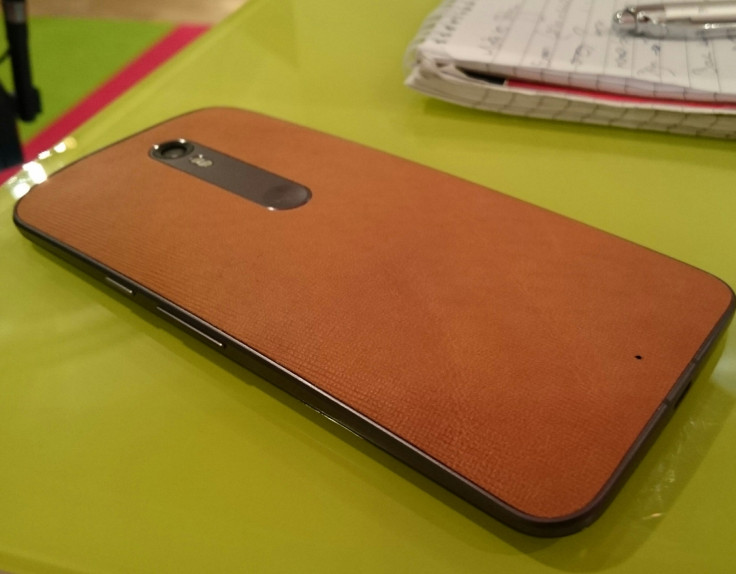 Despite the larger 5.7in screen, the Moto X Style doesn't feel overly cumbersome to use one-handed and that is thanks to its 76% screen-to-body ratio, where Motorola has reduced the bezels around the screen massively.
The result is a phone which has a bigger screen than the iPhone 6 Plus (5.5in) but has a smaller footprint. The result means that even for someone with small hands like me, I didn't feel it was too big.
It features a curved back just like last year's Moto x and the Nexus 6 which means it sits comfortably in your hand.
As the name suggests, Motorola is playing up the style aspect of the phone and with the its Moto Maker system customers will be able to choose a huge range of finishes (including silicone rubber, leather and wood) as well as different metallic trims and frames.
I looked at four or five different versions following the phone's launch in London and all felt and leaked great. I'm not sure if the leather finish would be something I want, but its nice to have the choice. The soft grip silicone rubber finish did feel great though.
Moto X Style: Camera
Motorola made a big play of its new camera technology in the Moto X Style and while it was difficult to judge in the harsh lighting of a demonstration room, the phone did seem to handle the conditions quick well, though I found that the focusing system was slightly slow.
Motorola said it had asked some camera experts to carry out independent testing before the launch and they had concluded it was among the best smartphone cameras on the market, putting it ahead of the iPhone 6 and iPhone 6 Plus - which I have reservations about considering the level of quality those achieve.
I guess we'll only know when we get to test it out fully.
Moto X Style: Battery, screen and speakers
Another big feature pushed by Motorola was its Turbo Charge technology, but beyond the company's own claims of its being 50% faster than Samsung's own fast charge system on the Galaxy S6, we can't really say how good it really is.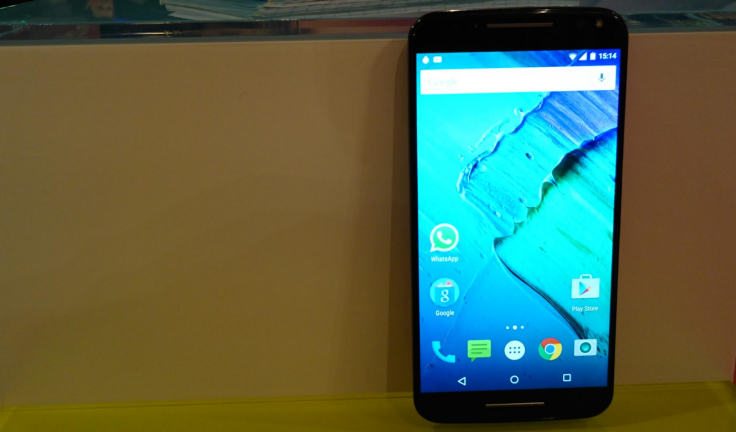 The phone's 5.7in screen however was exceptional. It is large, bright and sharp with a Quad HD resolution (2560 x 1440) making it among the best on the market. Side-by-side with the recently launched Xperia Z3+ the Moto X Style was significantly brighter with both phones at full brightness.
The phone also features front-facing speakers for the first time, an innovation borrowed from HTC's BoomSound speakers on its HTC One range. Again testing the speakers in a crowded demonstration room is probably not the most scientific of tests, but I was still able to make out the vocals on a YouTube video, and it was loud enough for me to get some annoyed looks from my fellow journalists.
Moto X Style: Pure Android
The Moto X Style features the very latest version of Android without any skins or embellishments save for a number of Motorola apps to help you migrate from your old phone and solve any problems you might have.
This means the interface ran very smoothly and in a bid to get an idea of how fast the Moto X Style was I ran a AnTuTu benchmarking app which returned a score of 47146 which puts it just below the Samsung Galaxy Note 4 in terms of performance.
Again, until we get a chance to use the phone in real world situations we won't be able to judge how it really handles multitasking or whether it heats up significantly or not.
Moto X Style: First impressions
The Moto X Style looks like it could be one of the best Android smartphones on the market in 2015. If you don't want to shell out £560 for a Samsung Galaxy S6 then the Moto X Style offers a great screen, a pure and smooth Android experience and the promise of a much improved cameras, fast battery charging and good performance.
At £359 however it doesn't fall into the bargain segment that the OnePlus 2 will at £239, and it could be that it falls between the crack of those will to sign up to a long-term contract to get an iPhone 6 and this looking to grab a real bargain.