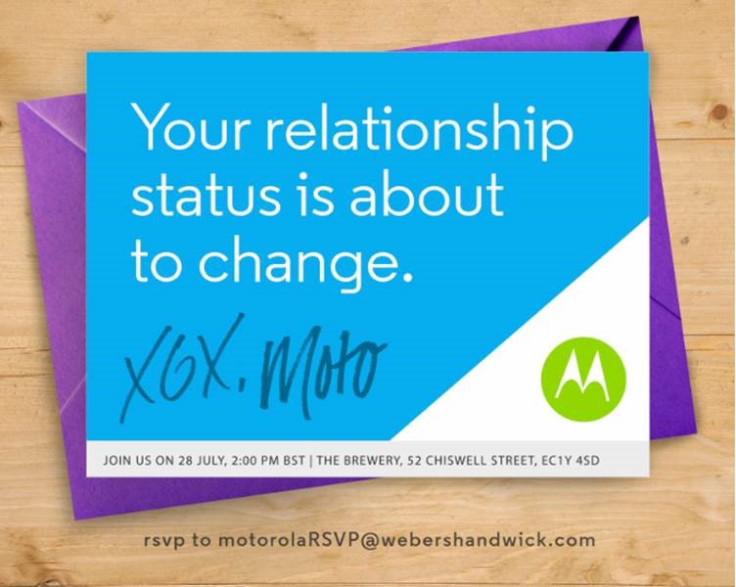 Motorola has invited journalists to an announcement in London on 28 July, where it is expected to announce the 2015 Moto X and Moto G smartphones.
Coming into their third generation, the X and G are high-end and mid-tier Android handsets respectively. The invitation reads "Your relationship status is about to change" and the event kicks off at 2pm BST.
The 28th has long been rumoured as the date the new phones would break cover, and now it has been confirmed we're inclined to trust the other rumours surrounding the new G and X.
Expected to cost around £160 SIM-free, the new Moto G is said to have a 64-bit Snapdragon 410 processor, a 5in screen with a 720p HD resolution, a 13-megapixel camera on the back and a 5MP camera on the front.
Meanwhile, the more expensive Moto X has also leaked online several times in recent weeks. The leaks claim it will pack a 5.2in AMOLED screen with a QHD resolution – that means 2560 x 1440 – 4GB of RAM, a Snapdragon 808 hexa-core processor, a 16MP camera on the back and a 5MP camera on the front. The phone will be offered with 32GB or 64GB of storage, run Android 5.1.1 and have a generous 3,280mAh battery.
The biggest feature of the 2015 Moto X is expected to be its rear camera, which is claimed to boast optical image stabilisation (OIS), which keeps the lens more stable and prevent blurred photos and shaky video; the technology also makes for better low-light photos because the sensor can be left open for longer, capturing more light.
Another new feature is claimed to be a Type C USB port, like that used on the new MacBook. The port is reversible and can be used for just about anything, from transferring data to charging.
As for design, leaks reveal the 2015 Moto X will come with a wooden back, as is currently an option on the 2014 model. We don't yet know if all versions of the new phone will be wooden, but we imagine there will be a choice of different grains and finishes, plus conventional plastic in a range of colours, and maybe a number of leather options too, configurable through Motorola's Moto Maker website.
The event could also be where we see the second-generation Moto 360 smartwatch, but this is yet to be confirmed.
IBTimes UK will be at the 28 July event, where we will hopefully get to try out the new handsets for ourselves.