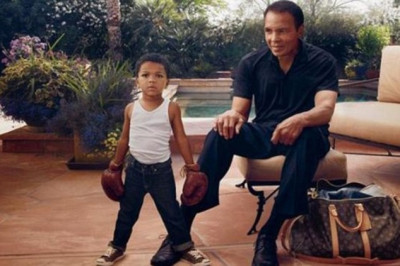 Heavyweight boxing champion, Muhammad Ali, has joined Angelina Jolie, Francis Ford Coppola as the new face of Louis Vuitton's Core Values campaign.
The three-time world champion was joined by C J, the four-year-old son of his daughter Laila Ali in the campaign.
The campaign image has been taken by renowned American photographer Annie Leibovitz at Ali's home in the US. The tagline for the campaign reads: "Some stars show you the way. Muhammad Ali and a rising star. Phoenix, Arizona."
A statement by Yves Carcelle, Chairman and CEO of Louis Vuitton mentions that "Muhammad Ali is the epitome of an outstanding personality - a true living legend in boxing and far beyond. We are honoured that he agreed to be photographed for the Core Values campaign, and delighted with the way this beautiful portrait of the champion and his grandson captures the idea of transmission, which is of great significance to Louis Vuitton."
Nicknamed "The Greatest," Ali was involved in several historic boxing matches during his career. Notable among these were three with rival Joe Frazier, which are considered among the greatest in boxing history, and one with George Foreman, where he finally regained his stripped titles seven years later. Ali was well known for his unorthodox fighting style and unique techniques.
The Telegraph reports that "Core Values" celebrates Vuitton's timeless classics in real situations on 'real' people - meaning celebrities rather than models - and runs alongside their seasonal 'fashion' campaigns.
Last year, it was Angelina Jolie who was the face of the Louis Vuitton campaign. The star, who is also a UN Goodwill ambassador, agreed to be captured by photographer Leibowitz for the campaign in Cambodia. The unique campaign image shows Jolie sitting in a wooden boat in the province of Siem Reap with a vintage Louis Vuitton Monogram Alto Holdall by her side.
A similar campaign was shot in 2010 featuring Ali and Bono in a vast landscape in Africa.The campaign was a reflection of the couple's long relationship with the region - a reflection of their fight against poverty in the region. In the year 2009, the core value icons were Buzz Aldrin, Jim Lovell, and Sally Ride to commemorate the 40th anniversary of man's conquest of the Moon while in the year before; it was the legendary filmmaker Francis Ford Coppola, and his daughter Sofia.
Catch a glimpse of the various Louis Vuitton Core Values campaign images through the years: