Murdered Puerto Rico Boxer Makes Final Appearance in Ring [VIDEO]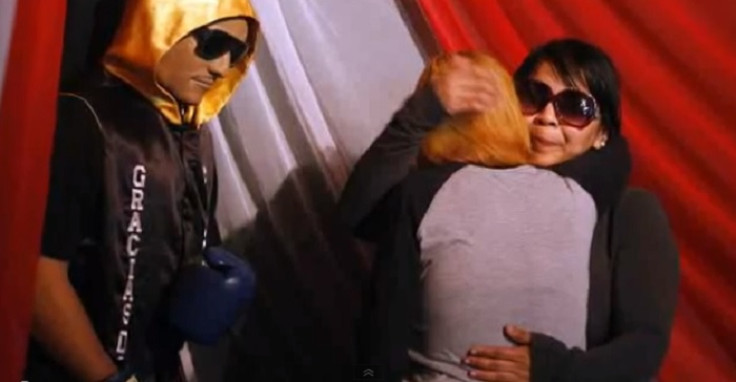 The family of a murdered boxer has paid tribute to his sporting career by showcasing his fully dressed corpse in a boxing ring.
Super featherweight Christopher Rivera Amaro, 23, was shot dead last week, and his family dressed his body in his boxing outfit before propping him upright in a makeshift ring for a wake at a community centre in Puerto Rico's capital San Juan.
Amaro's mother Celines, his wife Lidianette Carmona and son Julio Christopher posed for photos with the body, which was also visited by hundreds of other mourners.
Elsie Rodriguez, vice-president of the Marin Funeral Home, said Amaro's family wanted to celebrate his achievements as a boxer so the establishment suggested the death pose.
Rivera had a 5-15 record in the 130-pound weight class. He was shot dead in the city of Santurce but police said they have not yet made any arrests.
Showcasing the dead as if they are still alive is becoming an increasingly popular way for grieving families to cope with the death of their loved ones, and Marin Funeral Home has become known for its unconventional death poses.
The home recently arranged for one corpse to be showcased sitting down smoking a cigar.
Meanwhile, the family of an 82-year-old motorcycle enthusiast carried out his wishes by burying him astride his 1967 Harley-Davidson Electra Glide motorcycle in a special plexiglass casket he devised himself.
Bill Standley's family said he planned his own funeral 18 years ago and even secured a burial slot in Fairview Cemetery in Mutual, Ohio, next to his wife Lorna.
A team of five embalmers dressed Standley in his black leathers, white helmet and clear aviator glasses for his final journey.
Tammy Vernon of Vernon Funeral Homes told the Dayton Daily News: "We've done personalisation but nothing this extreme. He was the one who kept throwing this idea out there to be buried on his bike. We were glad to assist him."
Watch video of the unusual boxing remembrance ceremony on YouTube, below:
© Copyright IBTimes 2023. All rights reserved.