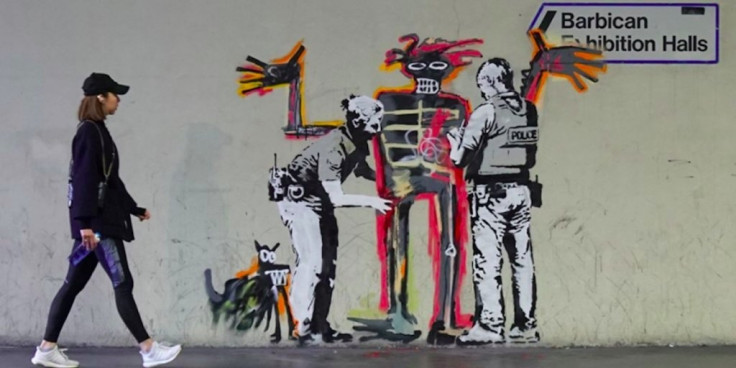 Two new murals by street artist Banksy have appeared, poking fun at a "graffiti-free" area of central London.
The works, by a tunnel close the Barbican Centre, mark the opening of an exhibition by American artist Jean-Michel Basquiat.
On Instagram Banksy described the murals as an "(unofficial) collaboration" with Basquiat who rose to fame as a New York City graffiti artist, before turning to painting. He died in 1988, aged just 27, from a suspected drug overdose.
Alongside an image on Instagram the first work – a Ferris wheel – the anonymous artist wrote: "Major new Basquiat show opens at the Barbican – a place that is normally very keen to clean any graffiti from its walls."
The second mural, which bears a likeness to Basquiat's 1982 work Boy and Dog in a Johnnypump, is captioned: "Portrait of Basquiat being welcomed by the Metropolitan Police – an (unofficial) collaboration with the new Basquiat show."
The retrospective for the US artist, Basquiat: Boom for Real, opens at the Barbican Centre on 20 September and is described by the Barbican as the "first large-scale exhibition in the UK of the work of the American artist".
Originally from Bristol, Banksy's subversive mid-1990s murals, such as two policemen kissing or a teddy bear launching a Molotov cocktail at police, have become world famous.
Over the last decade his work has been transferred to canvas and has sold for around $2m, while celebrity collectors include British fashion designer Paul Smith and American film stars Brad Pitt and Angelina Jolie.
Earlier this year his 2002 mural of a girl releasing a heart-shaped balloon, called Balloon Girl, was voted Britain's favourite artwork. It came ahead of John Constable's 1821 landscape The Hay Wain, while third spot was taken by Jack Vettriano's 1992 painting The Singing Butler.