A new smartphone apps wants to help you look your best by allowing you to search for and book haircuts without having to pick up the phone. Rock Pamper Scissors, founded by former Just Eat CMO Mat Braddy and backed by investors including New Look founder Tom Singh, has just received a £1.2m ($1.8m/€1.6m) investment boost to help it reach new customers in the UK.
Rock Pamper Scissors is available on Android and iOS devices and lets you search for local hair stylists. The app displays real-time availability of hairdressers, allowing you to book an appointment directly via the app, and also lets you view stylists' portfolios so you can ensure you won't come out looking like Zoolander's Jacobim Mugatu.
Unlike similar apps from rival platforms (Treatwell being the most obvious example), Rock Pamper Scissors is also about helping individual stylists spread the word about their work, rather than just letting customers find the best deals on treatments. Customers have the option of rating stylists, which will then show up in other users' searches alongside tags showing their individual skills.
"Whilst building Just Eat it really puzzled me that no-one had built an excellent app for haircut booking," said Braddy. "We believe less than 1% of haircuts are currently booked online – that's insane. By focusing our brand and thinking on the millennial consumers, Uber's children, who require instant access to services right now, we believe we have come up with a compelling approach which will finally solve this dilemma.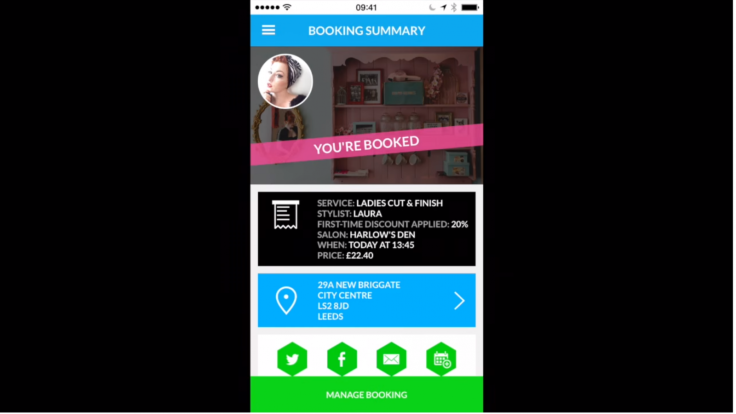 "Our vision is to boost confidence. Confidence in booking a skilled stylist, confidence in online as the best channel to do this with, and personal confidence for the client by getting the best cut."
The latest round of funding, which came from investment capital groups 500 startups and Seedcamp alongside various angel investors, will be used to grow the apps stylist and customer base in London, following successfully trials of the app in Leeds and Manchester in 2015. Rock Pamper Scissors said the money will also be used to strengthen its tech team and continue its development of apps and services that aim to "empower the stylist community".
Singh added: "Over the past few years I've had many fashion apps presented to me, but Rock Pamper Scissors stands out. It clearly disrupts an outdated way in which bookings for haircuts can be made, by facilitating choice and with complete ease.
"In my opinion, it's only a matter of time before calling for hair appointments will be a thing of the past – why would you when an app like this enables informed, fast and easy bookings?"