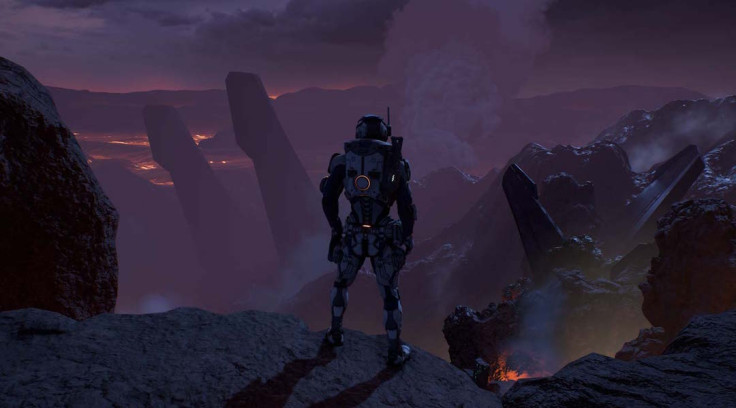 BioWare unveiled brand new footage of its upcoming sci-fi RPG Mass Effect Andromeda at Nvidia's CES 2017 keynote on Wednesday (4 January) giving excited fans a glimpse of a dangerous new volcanic planet, exciting combat with robotic creatures, skill trees and more. The new trailer comes on the heels of the developer's long-awaited announcement that Andromeda will finally be will released on 21 March.
The two-minute video begins with the Tempest making its way through asteroids before landing on the surface of a new desert planet. After selecting members of your party - Ryder and PeeBee in the video - the brief footage features a segment of a loyalty mission for the quirky new Asari companion character PeeBee, giving players a better glimpse of some the combat they can expect to encounter in Andromeda.
It also shows some of the armoured aliens and robotic creatures they will soon battle, the players leveling up their skills to take them on and confronting enemies with fire and bolts of electricity.
Players will also be able to change and choose from various class types on the fly using the game's new dynamic profile system, and automatically adjust their abilities and mechanics.
The demo was captured running on an Nvidia GTX 1080.
"Mass Effect: Andromeda is our most ambitious Mass Effect game to date," BioWare general manager Aaryn Flynn wrote in a blog post. "We're telling completely new stories, creating new characters, new planets, new species, and introducing new gameplay systems. And for the first time, we're bringing Mass Effect to the Frostbite game engine, an incredible engine that's delivering a tremendous graphical jump from the trilogy to Mass Effect Andromeda."
Ahead of Nvidia's keynote, BioWare and EA announced that Mass Effect: Andromeda finally has a release date of 21 March in the United States and 23 March in Europe. BioWare also revealed that the development team played a version of Andromeda called the "holiday build" during the winter holiday break, noting that "the feedback has been great".
"Getting the endorsement from members of our studio, many of whom played key roles on the original trilogy, was definitely a key factor in helping us lock in on the date," Flynn explained.
"We are just a couple of months away from delivering a brand new Mass Effect experience to you for the first time in five years - richer, deeper and ready for exploration. We're excited about how far we are going with the franchise, and we hope you find it's been worth the wait. See you in Andromeda."
Mass Effect: Andromeda is set to launch on 21 March in North America and 23 March in Europe for PS4, Xbox One and PC.