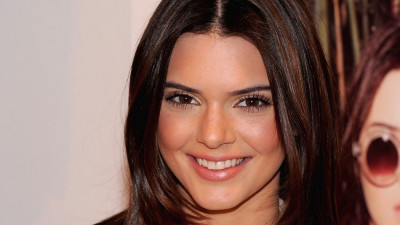 American television personality Kendall Jenner showed her breasts through a sheer top while walking the runway at the Marc Jacobs fashion show held during Mercedes-Benz Fashion Week Fall 2014 at the NY State Armory in New York City.
The 18-year-old Keeping Up with the Kardashians star strutted her stuff in a see-through top and nude pants.
"I just recently turned 18, so this [Marc Jacobs show] is my big kick-off to start and grow my career," she told Into The Gloss of her runway debut. "The New York fashion scene is crazy, madness, but I love the energy. I love everything about it—like the hair and makeup today, it's incredible. I've never had my eyebrows bleached; I don't even look like myself!"
Kim Kardashian took to Twitter to support her sister and shared a picture of Jenner on the runway for Marc Jacobs.
"Proudest sister ever!!!! @KendallJenner I love watching you live your dream!" she wrote.
Khloe Kardashian wrote on Instagram: "My baby sister killed it today walking in the Marc Jacobs fashion show!!! Kenny you are so dope to me!!! Congrats my baby!!! #NYFW #MarcJacobs #ProudSis"
Khloe also defended Jenner against critics who claimed that the outfit was too racy.
"She's too dope for you 2 understand! Yall would trade places with her in a second! The hate is real! Lol bye haters! #ModelLife #Simple," she wrote on her Twitter account. "Basic bitches NOT wanted. Oops I keep forgetting I'm supposed to be on my 'don't sweat the small stuff' ish…. But I just can't pass up a good rant #SorryNotSorry… Its a fashion show. She doesn't choose! #Clueless."