New York St Patrick's Day Parade Lifts Ban on Gay Groups Marching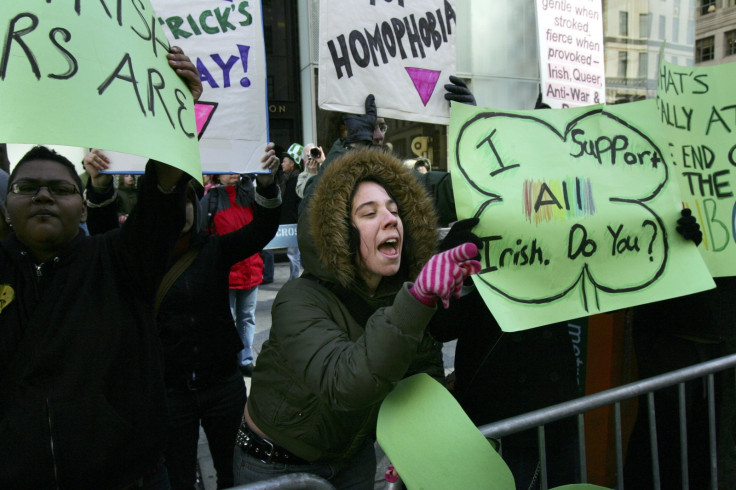 The biggest St Patrick's Day parade in the world has lifted a ban which did not allow openly gay people to participate in the march.
Organisers of the annual procession through Manhattan's Fifth Avenue in New York previously did not allow members of the lesbian, gay, bisexual or transgender community to take part if they held openly gay banners.
The ban has received continuing criticism down the years. Last March, Mayor Bill De Blasio became the first mayor in 20 years to not take part in the New York parade in protest at the exclusion of gay groups.
Irish brewer Guinness and major beer company Heineken also pulled out of sponsoring the march over the restriction.
The committee has said that OUT@NBCUniversal, a LGBT support group at the television company which broadcasts the event, will this year join in the parade on 17 March with an identifying banner.
Parade spokesman Bill O'Reilly said other gay groups will be allowed to take part in future years. It is not known why OUT@NBCUniversal were selected as the first.
The committee said its "change of tone and expanded inclusiveness is a gesture of goodwill to the LGBT community in our continuing effort to keep the parade above politics".
Before De Blasio, the last New York mayor not to take part in the annual St Patrick's day parade was David N Dinkins, who boycotted the celebrations in 1993 following a court's decision to exclude a group of openly gay participants.
The ban led to the creation of a smaller, alternative gay-friendly march in the New York borough of Queens.
"Organisers have diligently worked to keep politics – of any kind – out of the parade in order to preserve it as a single and unified cultural event," the committee added.
"Paradoxically, that ended up politicising the parade."
The St Patrick's Day celebration, which pre-dates the creation of modern-day New York, is watched by around one million people every year and has around 200,000 performers.
© Copyright IBTimes 2023. All rights reserved.