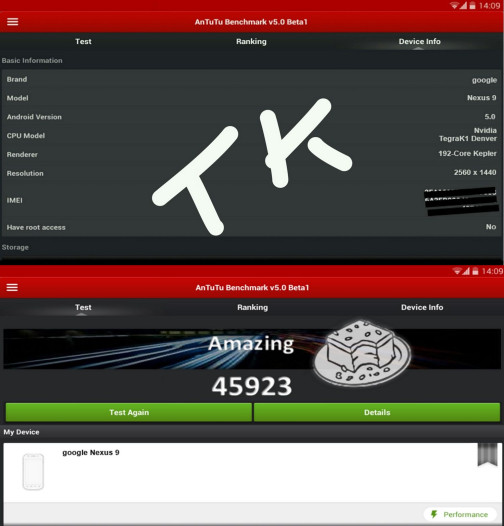 Google's highly anticipated Nexus tablet sporting 8.9in screen has made an appearance in the AnTuTu benchmark listings.
The AnTuTu benchmark, shared by TKTechnew, corroborates previous reports, which claim HTC manufactured Nexus 9 will use Nvidia's Tegra K1 processor, which is a 64-bit chip, and paired with 192-Core Kepler graphics unit.
Due to the CUDA (computer unified device architecture) technology, the Tegra K1 is a quite powerful processor and 50 times faster than Tegra 2 and can outdo the Xbox 360 and PlayStation 3.
The benchmark further confirms the Android software version for Nexus 9 to be 5.0, codenamed Android Lemon Meringue Pie or Android LMP and display resolution at 2560 x 1440 pixels.
What is slightly strange in this benchmark data is that it has an IMEI number (international mobile station equipment identity), reports PhoneArena. The IMEI number is only given to the devices with cellular connectivity. The presence of IMEI number hints that Nexus 9 could boast with LTE connectivity.
However, this wouldn't be surprising for Nexus users. Google usually release the Wi-Fi model first and then bring the cellular data model later.
The tablet scored 45,923 points in the benchmark test.
Among other rumoured hardware features are the eight megapixel camera with optical image stabilisation and a 3MP front camera and front facing stereo speakers. The tablet will have 16GB and 32GB storage variants.