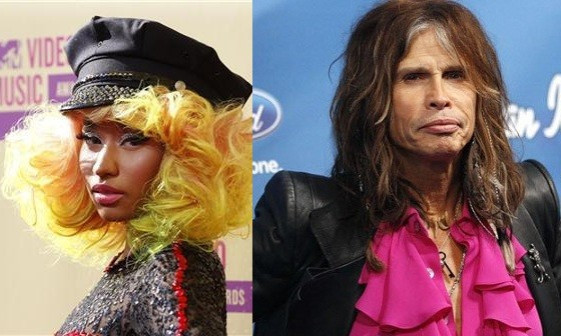 Nicki Minaj has accused Aerosmith rocker Steven Tyler of racism after he criticised her American Idol judging abilities.
The Young Money rapper was fuming after the former American Idol judge claimed that she would not have been able to recognise Bob Dylan's talent.
Tyler told MTV News: "These kids, they just got out of a car from the Midwest somewhere and they're in New York City, they're scared to death - you're not going to get the best [out of them].
"If it was Bob Dylan, Nicki Minaj would have had him sent to the cornfield. Whereas, if it was Bob Dylan with us, we would have brought the best of him out, as we did with [Idol Season 11 winner] Phillip Phillips."
But in a string of explosive tweets, Minaj accused Tyler of being bitter that she had replaced him on the show.
She tweeted: "Steven Tyler said I would have sent Bob Dylan to a cornfield? Steven, you haven't seen me judge one single solitary contestant yet.
"I understand you really wanted to keep your job, but take that up with the producers. I haven't done anything to you. That's a racist comment."
The famously forthright 29-year-old artist went on to accuse him of targeting her because she was black and a rapper.
"You assume that I wouldn't have liked Bob Dylan? Why? Black? Rapper? What? Go f**k yourself and worry about yourself, babe.
She added: "When Steven [first] went on Idol he was ridiculed by his peers and fans alike. Called a sell-out. So what does he do? Ridicule the next judge."
Tyler stepped down from the American Idol judging panel this summer to concentrate on his music.
Minaj joined the show alongside Mariah Carey and Keith Urban in September.