iPhone concept art and videos are two a penny on the web, but this Nintendo phone mock-up is quite something to behold. Dubbed the Nintendo Plus, this gaming smartphone concept takes a little bit of the slimline chic of Google's Nexus range and combines it with a few design cues from Sony's Xperia Play and the PSPGo to form the ultimate dream phone for Nintendo fans.
The stunning gallery of images shows the phone's rotated dual-screen Nintendo DS mode, a kickstand for 'classic' gaming, a pair of HTC-style front-facing stereo speakers and a full suite of buttons – including the traditional ABXY set-up and four shoulder bumpers/triggers.
The highlight, however, comes in the form of two physical analogue sticks that turn this would-be creation from a frivolous, throwaway imagining into a code-red 'take-my-money' situation.
Sure, there are unofficial emulators out there capable of running ROMs on Android devices (which Nintendo isn't a big fan of, by the way), but the idea of enjoying Nintendo classics from the Legend of Zelda, Pokémon, Mario and Metroid franchises on mobile, all with a pair of twin sticks? Where do I sign?
Aside from the Nintendo-specific hardware influences (which also includes a nifty ejectable stylus), Italian designer Giuseppe Avanzato has certainly considered the actual phone aspects of the device too in his Behance portfolio.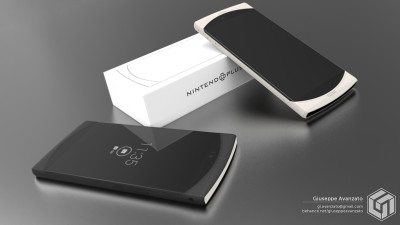 Based on Android 6.0 Marshmallow software, the Nintendo Plus would rock a Qualcomm Snapdragon 820, a 5.1in Full HD AMOLED screen, a 3000mAh battery and a 12-megapixel camera, all housed in a polycarbonate body.
In terms of gaming, the Plus would support native emulators for the nearly every Nintendo home console and handheld since the 8-bit NES up to the Nintendo DS.
Much like the Plus itself, the prospect of a Nintendo mobile is currently just a fantasy, but the Kyoto giant is seemingly embarking on a new hardware strategy following the success of its social-networking Miitomo app.
With Nintendo's recent revelation that its next home console, the Nintendo NX, would be designed to synergise with "smart devices" and following the announcement that major Nintendo franchises such as Animal Crossing and Fire Emblem will be gracing smartphone screens in the near future, perhaps a Nintendo smartphone like the Plus isn't just a warp-pipe dream after all?