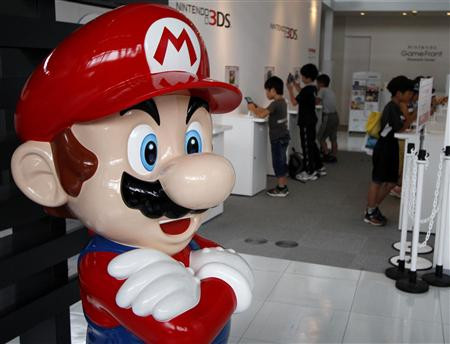 Despite Nintendo's decision to slash its 3DS handheld games console's price by 40 per cent and the announcement of two new Mario games, investors have remained pessimistic, leading to a 5 per cent slide in share value.
The news broke after a report from Reuters suggested that the slide in share value came as a result of continuing doubts by investors regarding the 3DS handheld's ability to compete with smartphone and tablet devices.
The report immediately followed a statement by Nintendo at the Tokyo Game Show revealing a slew of new games and an updated pink version of the 3DS. The titles unveiled at the show included a number set to include the company's flagship Mario character.
The new games follow a statement by the company's president, Satoru Iwata, alleging that one reason for the 3DS low sales figures and Nintendo's resultant poor financial performance was the handheld's launch lineup. Speaking at the show, Iwata went on to cite his belief that the new titles would help reverse the 3DS' fortunes.
"From the end of this year to the beginning of next, we are planning the kind of extensive lineup that has probably never been seen before in the history of video games," said Iwata. "We will make an all-out effort to see that the 3DS sells enough to become the successor to the DS."
The drop comes just after the company revealed one of its most disastrous financial quarters to date. The quarter saw the company slash its profit forecasts by a whopping 82 per cent. The poor performance was attributed to the poor performance of its 3DS device.
Following its poor performance, Nintendo implemented several new drastic strategies to boost its revenue. As well as seeing Iwata, and several Nintendo executives take hefty pay cuts, the measures taken also saw the company slash the 3DS' recommended price by 40 per cent.