When Nokia bowed out of the mobile phone market it once dominated, it said it would focus on maps, network infrastructure and "advanced technologies". Now we know what that third category includes: the Ozo, a professional camera rig to create 360-degree video and audio for virtual reality headsets.
Joining a new but growing market of VR production equipment, the Nokia Ozo is a sphere with eight camera spaced evenly around it, plus eight microphones designed to capture sound in three different directions; hear a car horn behind you when watch a virtual reality video, and turn around to see the car and sense its sound shift to be in front of you.
Nokia is not aiming the Ozo at the consumer market. Instead, it wants it to be integrated into the workflow of Hollywood film directors and production companies. Making the Ozo stand out from current VR equipment is its ability to let producers view VR in real time through a connected headset. Other VR rigs require video shot with each camera to be stitched together with a computer before being viewed, which can take several hours.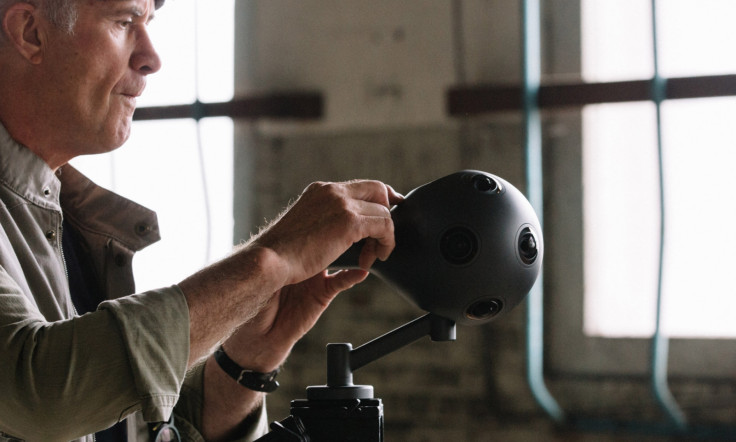 The Ozo can be connected to a regular tripod and outputs video ready to be worked on in editing software, or uploaded as a 3D file straight to YouTube. Ramzi Haidamus, president of Nokia Technologies, said: "Ozo aims to advance the next wave of innovation in VR by putting powerful tools in the hands of professionals who will create amazing experiences for people around the world.
"We expect that virtual reality experiences will soon radically enhance the way people communicate and connect to stories, entertainment, world events and each other. With Ozo, we plan to be at the heart of this new world."
But amateur film-makers hoping to produce VR videos with the Ozo will be disappointed. Nokia is aiming this squarely at the professional market and although pricing will be confirmed at a formal launch event in the autumn, The Verge claims it will cost "mid-five figures".
The VR equipment market is set to grow over the next 12 months; in May this year GoPro announced it was building a spherical camera mount to record VR video, and separately announced a 16-camera setup to be used with Google Jump, a new ecosystem for VR film making. Meanwhile, Samsung is developing a VR camera rig as well with an initiative called Project Beyond.
Nokia also announced a partnership with California VR production company Jaunt Inc, which will use the Ozo in its Jaunt Studios, a leader in virtual reality video production.