Nokia has unveiled the N1 Android tablet, the Finnish firm's first device since selling its Mobile and Devices division to Microsoft earlier this year.
It's been described by Ian Fogg, director of mobile analysis at IHS Technology, as an "audacious move" that follows on from a history of bold strategic moves by Nokia.
At the same size as the iPad mini 3, the Nokia N1 will cost an impressive $150 less than Apple's miniature tablet when it launches next year. But is that price enough for Nokia to make a dent in an already crowded market?
IBTimes UK got our hands on one to find out.
---
Nokia N1: Design
---
The Nokia N1 isn't just similar in size to the iPad mini, with its identical 7.9in screen size, it would actually be hard to tell the two apart when looking at them from behind if it wasn't for the different logos.
The headphone jack, volume controls, camera, and even bottom facing speaker panels are all placed in almost identical positions on both devices.
Even the USB port looks like Apple's Lightning port, though this is in fact the new reversible Type-C USB connector.

At just 6.9mm thick and 318 grams in weight, the N1 is both thinner and lighter than the iPad mini 3. A "unibody" aluminium design gives the tablet a premium feel, far above what you might expect from $249 tablet.
---
Nokia N1: Screen and battery
---
The N1's 2048 x 1536 resolution gives a crisp and clear display that exactly matches the resolution specs of its Apple rival.
One thing it lacks is an anti-glare coating, which makes using it under bright lights quite tricky.
A 5300mAh battery apparently offers 9 hours worth of battery use under heavy use, according to Nokia, however such claims won't be verifiable until a full test can be given.
---
Nokia N1: Camera and performance
---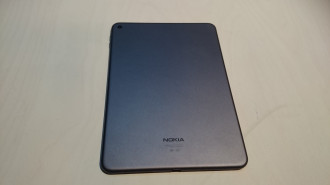 The camera on the rear of the Nokia N1 is a respectable 8 megapixel (MP), a full 3MP more than the iPad mini 3.
Even more impressive is the 5MP front-facing camera - arguably the most important camera for tablet devices due to their usefulness for making video calls.
The N1 features a 2.4GHz quad-core Intel Atom Z3580 processor (which is a 64-bit processor similar to the A8X chip powering the current iPads), 2GB of RAM, and 32GB of storage.
One slight downside is the lack of memory card slot.
---
Nokia N1: Z Launcher and Android 5.0
---
The Nokia Z Launcher, which is already available for Android devices through the Google Play store, allows users to navigate through apps and contacts by swiping a finger on the screen.
It's a good idea but when I tested it on the N1 tablet it didn't work as well as I hoped. A Nokia employee assured me that it was still in beta mode on the tablet and would be working much more efficiently when the N1 is finally released.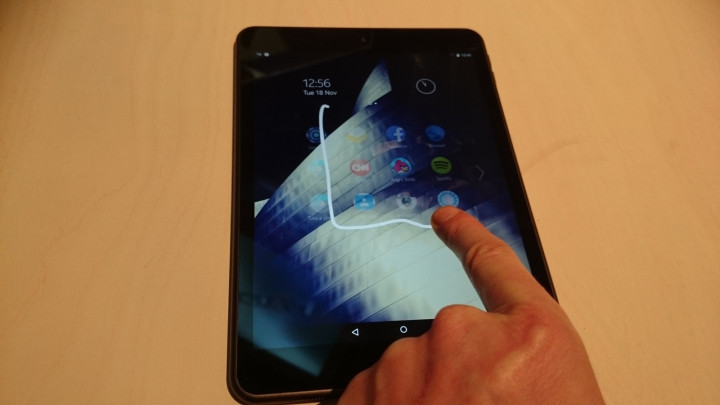 The Nokia N1 runs Android 5.0 (Lollipop), much like the recently launched HTC Nexus 9 tablet. The one things that actually makes it stands apart from other Android tablets will be Z Launcher, which I was told would be exclusive to the N1 tablet, but with it being available already in the Play Store, I'm not sure how that exclusivity is going to work.
---
Nokia N1: Price and release date
---
The Nokia N1 will first be launched in China in February of 2015, just in time for the Chinese New Year. It will cost $249 (before taxes).
Unfortunately, no word has yet been given of when it might be expected in European and North American markets.
Apple is going to need to have lowered the price of the iPad mini 3 by then, otherwise customers will be finding themselves hard pushed to justify such a vast leap in price for its device.