Nvidia has unveiled the next generation of its Android-powered home streaming box at CES 2017. As well as a refreshed design, the updated Shield TV will offer 4K and High Dynamic Range (HDR) streaming, support for Google Assistant, and integration with the SmartThings smart home ecosystem. The new media player begins shipping on 16 January, retailing at £189.99 in the UK.
The Californian tech company noted that the new and improved Shield TV will support 4K quality video streams across Netflix, YouTube, Google Play and Vudu, as well as support for Amazon Video's 4K HDR content. Thankfully, Nvidia appears to be fully aware of the processing demand of higher quality content, claiming that the new box offers three times the performance of any other streaming box currently on the market.
While the full specification details have yet to be revealed, Nvidia did confirm that both a remote control and game controller will be bundled with each box. For those with deeper pockets, a Pro edition will also come to market later on (price to be confirmed) with 500GB internal storage and a remote with a headphone port.
Alongside plug-and-play PC gaming support – with Ubisoft's Watch Dogs 2 and For Honor mentioned at the announcement event – and a Steam app coming to the Shield's Play Store for PC-to-TV game streaming, the major additions to the next Shield TV device are its smart home and voice recognition features.
Elsewhere at CES, Google confirmed that its personal assistant AI which debuted on the Google Pixel smartphone range is spreading to Android TV media boxes, including the Shield TV. Google Assistant enables voice control for media searches, playback control, as well as its usual services such as internet searches, travel updates and more.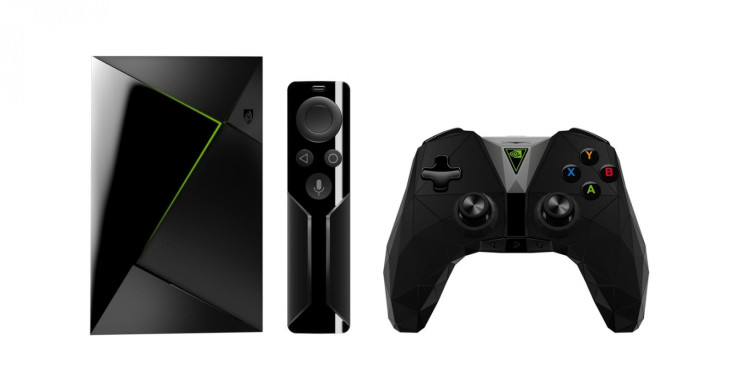 The assistant AI also links into the Shield TV's SmartThings support, which causes the Shield to act like a standard SmartThings Hub and controlling connected smart home appliances, lighting, and other compatible Internet of Things (IoT) devices.
To help further integrate its assistant AI with smart home functionality, Nvidia also announced the Nvidia Spot, which is essentially an Assistant microphone that can be placed around the home for quick commands in a similar fashion to Amazon's Echo Dot. The Shield Spot will retail at $49.99 in the US (UK pricing to follow).
"ShieldTV is the world's most advanced streamer. Its brilliant 4K HDR quality, hallmark Nvidia gaming performance and broad access to media content will bring families hours of joy. And with Shield's new AI home capability, we can control and interact with content through the magic of artificial intelligence from anywhere in the house," said Nvidia founder and CEO, Jen-Hsun Huang, at the company's CES 2017 keynote.