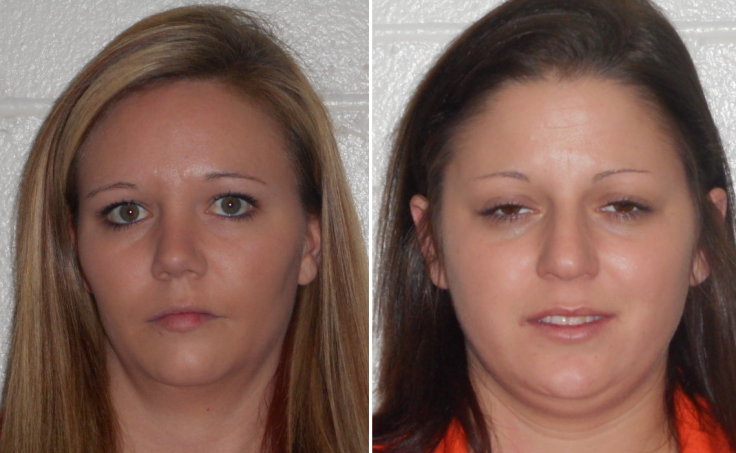 An Oklahoma mother and her girlfriend beat her five-year-old son with a hammer during a horrific period of abuse, causing the toddler to suffer two strokes.
Rachel Jean Stevens, 29, and her partner Kayla Ann Jones, 26, locked the boy in a room, bound his eyes with duct tape, hit him with a hammer and a belt and kicked him in the groin so hard he bled.
The pair were each handed 20 years in jail this week by a Muskogee County judge after they pleaded 'no contest' to charges of child abuse and child neglect.
The catalogue of abuse was exposed in December 2015 when the boy was taken to hospital in Tulsa, Oklahoma, because he was suffering from seizures and had lesions on his face, police said earlier.
Detectives told the court that Stevens hit the boy's hand with a hammer and that Jones "kicked him so hard in the groin that it made him bleed".
The toddler was transferred to three different hospitals as the severity of his injuries was assessed.
He was airlifted to his final clinic, OU Medical Centre in Oklahoma City, where doctors determined he was malnourished and had multiple broken bones at different stages of healing. It was during his time in hospital that he suffered two strokes, as as result of what is believed to have been months of abuse.
While the boy was being cared for by doctors the women set up a GoFundMe campaign asking for donations, claiming the boy was picking his own face and was having seizures because he had fallen over.
They also wrote they never left his side, and because the hospital had no beds for them they were sleeping in their car.
Stevens and Jones, who have been together for about 18 months, shared their Muskogee home with the victim's twin brother and seven-year-old sister.
It is not believed those children were physically abused. The father of the boy is no longer in contact with the family, officers told the court.
"Anytime you have child abuse or sexual abuse of a minor child, it's always difficult because we're dealing with such an innocent victim," said Muskogee County District Attorney Orvil Loge, as reported by US broadcaster News On 6.
Loge added: "The nature of the injuries were very severe, but the child is doing very well now in a loving home. He is a completely different child now than when this [case] first came in."